ARTISTS AND FRIENDS REFLECT ON THE PASSING OF LEGENDARY COUNTRY MUSIC ARTIST LORETTA LYNN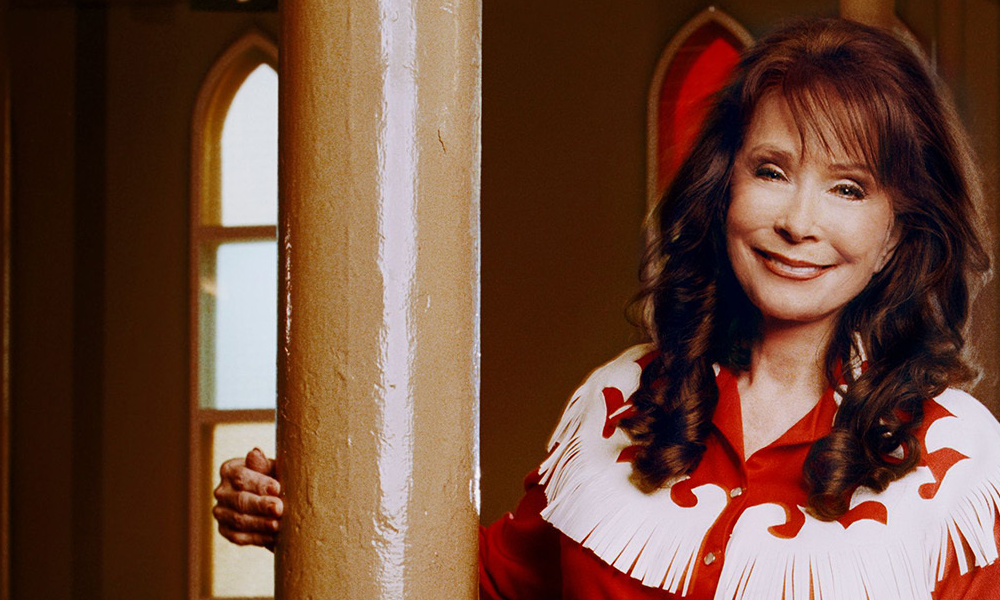 NASHVILLE, TN (October 4, 2022) – Nashville is deeply saddened and mourning the loss of legendary Country Music Hall of Fame Member, Loretta Lynn. Lynn, who was 90, passed away peacefully of natural causes at her Tennessee ranch. Lynn's music and achievements were repeatedly recognized by all of the major awards bodies. She joined the Grand Ole Opry in 1962, won four GRAMMY awards, seven American Music Awards and eight Country Music Association awards. She was the first woman to win the Country Music Association and Academy of Country Music awards for Entertainer of the Year. She was inducted into the Country Music Hall of Fame in 1988, the Songwriters Hall of Fame in 2008, and was awarded the Kennedy Center Honors in 2003 and the Presidential Medal of Freedom in 2013. She sold over 45 million albums worldwide.

Fellow artists and industry friends share thoughts and memories on her passing with words of love and condolence.
"There are simply no words to adequately describe my feelings at this loss. She was the Matriarch of our Opry Family the past several years and even though she could not be there in person, she was very much in that building, in our hearts, and on our minds. She was very welcoming to me when I came, asking me to sit down beside her and tell her about me. I was thrilled then and it still thrills me to think she was interested. In the end she just patted my knee and said "Don't ever change". Her impact on our industry through her songs was huge. She made everyone aware, starkly at times, of the plight of some women's lives, and that awareness brought about changes. Of course, I will always remember her sense of humor!  She would ask me to tell her a joke and then say "Tell Doo so he can explain it to me"! She will always be one of Country Music's greatest gifts to the world."

Jeannie SeelY
---
"Kind, welcoming, sincere, thoughtful, how many positive attributes can I think of that describe Loretta Lynn. But one that I think of at the mention of her name is grateful. From side stage to backstage at the Opry, at her ranch in Hurricane Mills, to sharing the stage at a festival somewhere in America, there was always a sense of gratefulness that flowed from her. Not one to take for granted the talent, family, friends, fans, or the music that blessed her life and in turn blessed our lives. We will miss you Miss Loretta, we will miss you."

JOHN BERRY
---
 "As we all remember Loretta for her staggering musical gifts, her sense of humor, her compassion as the matriarch of a large family, I'll be forever grateful to her, Patsy and Peggy for inviting me into her home and sharing her life story with me. God bless our Queen Loretta."

John Cowan (New Grass Revival/Doobie Brothers)
---
"This is a day I'll never forget! Ms. Loretta passed through those pearly gates on my Birthday! How bittersweet. She was my biggest influence, mentor, and dear friend. She was loved and adored by many, but she'll always be extra special to me….that girl from Butcher Holler sure done good and lived a life to be admired! I'll miss you Loretta Lynn, this world won't be the same without you in it, but you sure left a mighty big footprint!"

HEIDI NEWFIELD
---
 

"A monumental mold has been broken. We're so lucky to have had such a unique talent in our lifetime. Loretta lived the American dream, and gave back with country-style humility and grace. "

EXILE
---
"Ms. Loretta was an inspiration and icon and the real deal to a Kentucky kid who was aiming to be a songwriter. Her story is so true that you could not make it up. She had grace, style and a kindness that permeated through her amazing career. A true groundbreaking legend. One of a kind."

KENT BLAZY
---
"I saw Loretta and Conway when I was just a kid in Montgomery, Alabama. I never dreamed that one day I would write a song with her. I was honored to sing a Conway/Loretta duet with her back in 2016 at her July 4th show at her ranch. It felt like I was singing with a queen. I guess I was. The world just isn't the same when you lose someone like Loretta."

BOBBY TOMBERLIN
---
"My grandmother, Dottie West, wasn't the only one to grow up on 'Country Sunshine.' I don't think they come any more country than Loretta Lynn. She was a family friend, but also one of those original trailblazing women in country music. I'm certain as soon as my grandmother hears that country accent in heaven, she'll know it's Loretta. Country music won't be remembered without her name. Rest in Peace friend."

TESS FRIZZELL
---
"With every word she sang, you felt like you were living her songs. We never met Loretta Lynn personally, but have always admired her for her honesty, love for her fans, her faith in God and the love that she had for her husband, Doolittle. She was always proud of the eastern Kentucky hills she called home. She was a role model and a shining example for all of us. Rest easy, Miss Loretta."

Darin & Brooke Aldridge
---
"Loretta Lynn was hands down one of my biggest inspirations, not only in music, but in my life. When I was nine years old, my momma taught me the lyrics to 'Coal Miner's Daughter,' and it forever changed my life. It became the song that got me on my first professional stage, and was the song that taught me how music can heal and help people through any situation. When I was 10, I was performing at a long-term care facility where I met a real-life coal miner's daughter who was living with Alzheimer's. She didn't remember anything about her life, but when I sang 'Coal Miner's Daughter,' she remembered her childhood, her parents and siblings, and the amazing life she had lived. All of that came back to her because of the truth and powerful lyrics Mrs. Loretta Lynn wrote into her songs. Mrs. Loretta taught me the power of music, and through her music, she taught me to stay true to myself, and showed me the woman I want to be. I've always said my best friends growing up were Loretta Lynn and Patsy Cline, because they were there for me when it felt like no one else was. I'm so heartbroken to hear of Mrs. Loretta's passing, but I know she is with Patsy and Doo. My heart goes out to all of her family, friends and everyone who loved her. She will forever be one of the best and greatest women who ever lived. Thank you for the songs Mrs. Loretta, and thank you for being the reason I love music. You will always be the greatest country artist ever in my book."

Dallas Remington
---
"We lost an icon today. Loretta Lynn represented the best our genre has to offer. She was a true pioneer who wasn't afraid to stand out by singing openly and honestly about difficult topics, and someone all of us young artists could look up to. She will be missed greatly, but her spirit will live on forever in her vast catalog of music."

BRYAN RUBY
---
"I was so deeply saddened to hear of the passing of Miss Loretta. Words can't begin to describe what a loss this is to our Country music family. My Papa Steve was a big Loretta fan, so we have so many of her original vinyl records that we still play. She paved the way for female artists like myself and showed that it all can be done. She had the most iconic sound, style and story that will never be forgotten. My love and prayers go out to her family and friends. There is so much sweet music in heaven today."

Dani-elle Kleha
---
"I am so sorry to hear about the passing of Loretta. She was one of the most legendary, and best artists to ever step on a stage. She was way ahead of her time, paving the way for female Country artists in so many ways with her writing and performing. She will be missed so much, but thankfully, her music will live on. Prayers for her family and all of the many people who loved her."

Taylon Hope
---
"Ms. Loretta was a pioneer in country music and subsequently opened the door for other female Country artists. She's an absolute legend and will be sorely missed."

Jason Brownie