ROOKIE BRADY TURGEON WINS ROUND 2 OF PBR WRANGLER INVITATIONAL IN BILLINGS WITH 90-POINT RIDE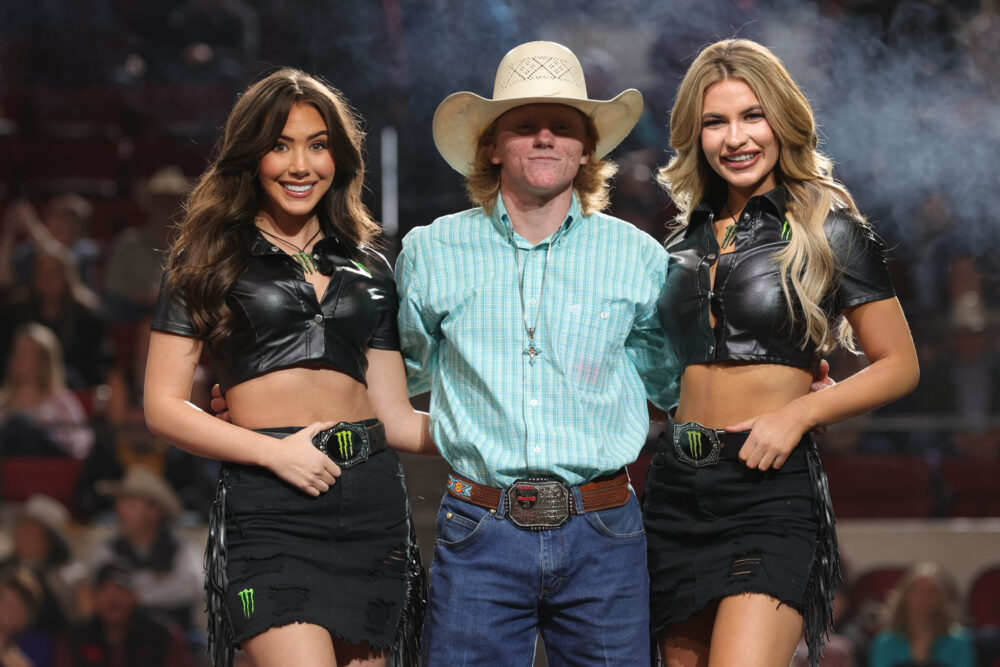 BILLINGS, Mont. – When night two of the three-day event in Billings, Montana, concluded, 36 of the top bull riders in the world were no match for 19-year-old Brady Turgeon (New River, Arizona) as he collected a career-first round win, winning Round 1 of the PBR (Professional Bull Riders) Unleash The Beast (UTB) Wrangler Invitational, presented by Cooper Tires, with a monster 90-point ride.
As the night began, Turgeon was paired with Death Warrant (John Wyckoff/Frihauf Cattle Co), but judges quickly deemed a technical error and awarded him a re-ride opportunity.
Climbing aboard his second bull of the night, the young Arizonan was seemingly unrattled at being put to the test a second time.
As Turgeon launched from the chutes aboard Tijuana Two-Step (M Rafter E Bucking Bulls), fans inside of First Interstate Arena at MetraPark reached a deafening roar. Gritting it out to the very last second, fellow riders and stock contractors were ecstatic on the back of the chutes as his 90-point ride score was announced.
Turgeon's efforts earned him 29 UTB points as he heads into Round 3 on Sunday at No. 3 on the event leaderboard.
His Round 2 win moved him to No. 49 in the UTB standings as he heads into day three in Magic City.
With the weekend in Montana marking the 20th event of the UTB season and only three regular-season events remain until the 2023 PBR World Finals in Fort Worth, Texas, May 12-21, world leader Kaique Pacheco (Itatiba, Brazil) has a lot on the line in Billings.
After a less than ideal night on Friday when he was bucked off in Round 1, he knew he had to hit the gas on Saturday. Paired with Fajita (Nothin But Try Ranch/ Diggers Bucking Bulls) as the last ride of the night, the 2018 PBR World Champion was stoic on the back of the chutes.
Arriving in Montana a razor-thin 2.5 points ahead of two-time PBR World Champion Jose Vitor Leme (Ribas do Rio Pardo, Brazil), Pacheco's 86-point ride score on Saturday night earned him 13 UTB points to push his lead to 15.5.
Leme remains out of competition still due to injury.
Friday night's Round 1 winner, 2016 PBR World Champion Cooper Davis (Jasper, Texas), split second place in Round 2 with Lucas Divino (Nova Crixas, Brazil) with matching 87-point scores.
Davis, who began the weekend at No. 6 in the standings, is among many making the charge to close in on the Top 5 as the season dwindles down, all in hopes of his second world title.
Paired with Toasted (Jenkins Cattle Co), the 2022 Carolina Cowboy in the separate PBR Team Series stood calmly in rider walk-off throughout the night unphased by the task at hand.
Launching from the chutes, Davis' world champion talent was clear as he effortlessly made the 8 aboard the muscular bovine.
Divino, who rode earlier in the evening, was matched with High Country Hitman (High Country Solutions/ Jenkins Cattle Co). Matching the same energy that earned him third place in Round 1, his fellow countrymen were at full volume on the back of the chutes.
Both cowboys earned 17.5 UTB points, which helped Davis to crack into the Top 5 in the world and Divino to jump three spots from No. 59 to No. 56.
Heading into Sunday, Davis sits atop the event leaderboard with Divino, an Austin Gamblers' inaugural-season athlete, hot on his heels at No. 2.
2022 Missouri Thunder man Colten Fritzlan (Rifle, Colorado) was in fourth place.
Beginning the weekend at No. 23 in the standings, Fritzlan was paired with Turn Back Jack (Hart Cattle Company) later in the evening.
Exploding from the chutes, the 22-year-old Coloradan recorded an 86.75-point ride score.
Earning 16 UTB points helped Fritzlan to move up one spot in the standings to No. 22.
Pride of the Navajo Nation, Keyshawn Whitehorse (McCracken Springs, Utah) rounded out the Top 5 in Round 2.
The 2022 Arizona Ridge Rider athlete confidently bested Big Worm (Berryman/Coleman/Ogden/Hart) for 86.5 points to earn 15 UTB points.
Starting the weekend at No. 17 in the standings, the success in Round 2 has moved him to No. 15 as the weekend plays out in Montana.
The top bull riders in the world will return to First Interstate Arena at MetraPark for Round 3 followed by the Championship Round of the PBR Wrangler Invitational, presented by Cooper Tires, on Sunday, April 16 at 1:45 p.m. MT.
PBR Unleash The Beast – PBR Wrangler Invitational, presented by Cooper Tires
First Interstate Arena at MetraPark -Billings, Montana
Event Leaders (Round 1-Round 2-Round 3-Event Aggregate-Event Points)
1. Cooper Davis, 88.75-87-0-0-175.75-45.5 Points.
2. Lucas Divino, 85.75-87-0-0-172.75-34.5 Points.
3. Brady Turgeon, 0-90-0-0-90.00-29 Points.
4. Colten Fritzlan, 0-86.75-0-0-86.75-16 Points.
5. Keyshawn Whitehorse, 0-86.5-0-0-86.50-15 Points.
6. Eli Vastbinder, 0-86.25-0-0-86.25-14 Points.
7. Kaique Pacheco, 0-86-0-0-86.00-13 Points.
(tie). Zane Cook, 86-0-0-0-86.00-18 Points.
9. Guilherme Valleiras, 85.5-0-0-0-85.50-15.5 Points.
(tie). Ednélio Almeida, 85.5-0-0-0-85.50-15.5 Points.
11. Austin Richardson, 85.25-0-0-0-85.25-14 Points.
(tie). Marcus Mast, 0-85.25-0-0-85.25-12 Points.
13. Wyatt Rogers, 0-83-0-0-83.00-11 Points.
Rafael Jose de Brito, 0-0-0-0-0.00
Boudreaux Campbell, 0-0-0-0-0.00
Jesse Petri, 0-0-0-0-0.00
Daniel Keeping, 0-0-0-0-0.00
João Ricardo Vieira, 0-0-0-0-0.00
Tate Pollmeier, 0-0-0-0-0.00
Silvano Alves, 0-0-0-0-0.00
Wingson Henrique da Silva, 0-0-0-0-0.00
Ramon de Lima, 0-0-0-0-0.00
Ezekiel Mitchell, 0-0-0-0-0.00
Marcelo Procopio Pereira, 0-0-0-0-0.00
Koltin Hevalow, 0-0-0-0-0.00
Manoelito de Souza Junior, 0-0-0-0-0.00
Derek Kolbaba, 0-0-0-0-0.00
Chase Outlaw, 0-0-0-0-0.00
Flavio Zivieri, 0-0-0-0-0.00
Nick Tetz, 0-0-0-0-0.00
Dakota Louis, 0-0-0-0-0.00
Alex Cerqueira, 0-0-0-0-0.00
Chase Dougherty, 0-0-0-0-0.00
Aaron Williams, 0-0-0-0-0.00
Cody Jesus, 0-0-0-0-0.00
Adriano Salgado, 0-0-0-0-0.00
Vitor Losnake, 0-0-0-0-0.00
Dawson Branton, 0-0-0-0-0.00
Ednei Caminhas, 0-0-0-0-0.00
Jaxton Mortensen, 0-0-0-0-0.0