Mattie Jackson Selecman Finds Healing Through Faith In 'Lemons On Friday' Book, Available November 16th
Alan Jackson lends his voice to "Racing The Dark," a song he co-wrote with Selecman that is available (limited quantities) with a pre-order of the book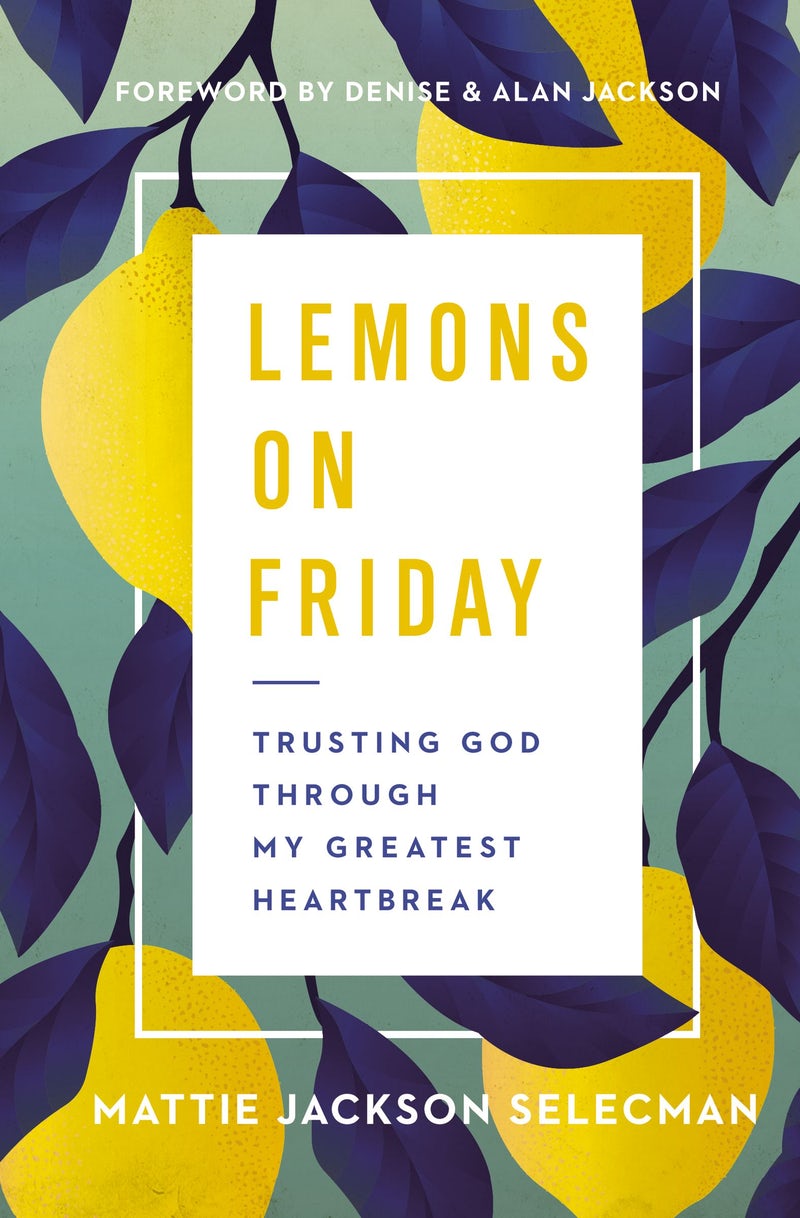 Mattie Jackson Selecman knows grief, and in her humbling and inspiring book 'Lemons On Friday,' (Thomas Nelson/W Publishing Group, November 16, 2021), she shares the most heartbreaking loss of her life and how her faith helped turn the most sour lemons into sweet lemonade.
Selecman was 11 months into marriage with her beloved husband Ben Selecman, when he suddenly and tragically passed away from a traumatic brain injury. At age 28, she became a widow and was forced to find a way to navigate a future drastically different from the one she had planned with her husband.
Written by iconic country artist Alan Jackson and New York Times best-selling author Denise Jackson, the book's foreword details their perspective of watching Selecman's love story blossom, the pain of seeing the love of her life taken away, and the renewed hope they continue to witness in how she is using her story to help others.
Alan Jackson lends his voice to "Racing The Dark," a song he co-wrote with Selecman that is available (limited quantities) with a pre-order of the book.
Throughout the book, Selecman carries listeners through the early weeks of her grief and all of the questions that followed. From mentally and emotionally draining moments and learning all the new "firsts"as an individual, to learning to let other people into her pain and the perspective-changing memoir someone gifted to her, to navigating the changes in her own life and accepting that while she can't change the darkness of the past, she can use her story to create a better future.
Selecman also touches on how the nonprofit she started two months before Ben's passing called NaSHEville, which helps orphans, human trafficking victims and widows, took on a whole new meaning following her own loss.
"My greatest hope in sharing my grief and story with the world is that anyone who is struggling, regardless the circumstances, will be reminded that no heartbreak or loss is unredeemable; that by confidently clinging to hope, we can truly heal," says Selecman.
'Lemons on Friday' explores these questions through processing grief:
– How did I get here?
– What do I do now?
– Will I always hurt this much?
– Where is God?
– Does time really heal?
– Who am I now?
– Why does God allow suffering?
– How do I accept the loss?
– How do I move forward?
– Where is our hope?
Selecman will be the first to tell you that grief doesn't come with a handbook, but in 'Lemons On Friday,' she offers comfort, wisdom and hope to anyone who has felt loss. Pre-order 'Lemons on Friday,' HERE.
ABOUT MATTIE JACKSON SELECMAN:
Mattie Jackson Selecman is a certified sommelier and previously owned a wine bar in Nashville. She also has a degree in creative writing from the University of Tennessee. Tragically, she lost her husband of less than a year, Ben Selecman, in September 2018 after he suffered a traumatic brain injury while on vacation in Florida. Despite her grief, Mattie is pushing forward and has dedicated herself to helping others. Mattie and her business partner, Brooke Tometich, started a philanthropic merchandise brand dubbed "NaSHEville" in order to help women and children in need—specifically orphans, widows, and trafficked women.