WINNERS TAKE HOME $119,000 FROM FORT WORTH'S TEXAS CHAMPIONS CHALLENGE
FORT WORTH, Texas (Jan. 19, 2023) Seven individuals earned $10,000 paychecks at the 2023 Texas Champions Challenge rodeo in Dickies Arena Thursday night. The event featured winners from five iconic Texas rodeos in six events, plus four contestants in freestyle bullfighting.
The 126th edition of the Fort Worth Stock Show & Rodeo (FWSSR) paid out $119,000 to 34 competitors in bareback riding, steer wrestling, saddle bronc riding, breakaway roping, barrel racing, freestyle bullfighting and bull riding.
The format of the rodeo featured an elimination round in each event where five contestants competed. The top two returned almost immediately for a head-to-head round with the winner taking home $10,000 and a bottle of Fort Worth-based TX Whiskey. The runner-up received $4,000 and the three other contestants from the elimination round each received $1,000. In the bullfighting, the two individuals who did not make the head-to-head round each received $1,500.
The event was also part of the first Texas A & M University day at the FWSSR and featured some of the 90-member Texas A & M Cavalry in the grand entry and an appearance by the school's yell leaders to start the competition.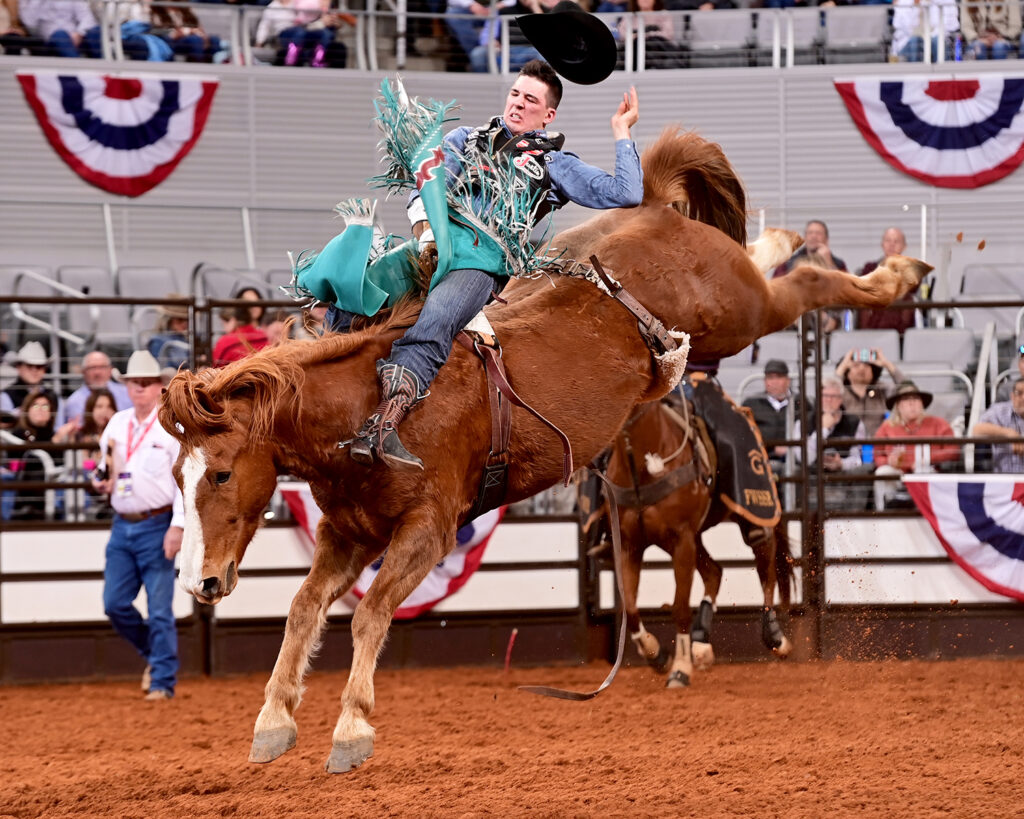 The first contest was bareback riding. Reigning world champion Jess Pope scored 86 points on Korkow Rodeos' horse Ringworm. Jess's younger brother Ty, the reigning collegiate champion, finished second with 85.5 points on Korkow's Zoowee Mama to join his brother in the final round.
---
The two broke into big smiles when they realized they would be in a head-to-head match for the $10,000 prize. Ty was first to ride, and he scored 87 points on Brookman Rodeo's horse 3:10 to Yuma. Jess rode another Brookman horse, Boozy Beaver, for 89 points. The Pope brothers took $14,000 back home to Garnett, Kansas, with Jess winning $10,000 and Ty $4,000.
Tristan Martin of Sulphur, Louisiana, was the only reigning Fort Worth Pro Rodeo Tournament champion to win his event at the Texas Champions Challenge. He clocked the only time under four seconds in steer wrestling – 3.97 – to win the elimination round, then bested fellow National Finals Rodeo (NFR) cowboy J.D. Struxness by three-tenths of a second in the final round.
Talking to broadcaster Pam Minnick in the spotlight on the Dickies Arena floor, Martin said, "I love this place. This is my favorite rodeo."
That sentiment was seconded by saddle bronc riding winner Lefty Holman of Visalia, California. The newlywed finished second in the elimination round behind reigning world champion Sage Newman of Melstone, Montana. Newman scored 90.5 points on Mazca Pro Rodeo's horse Ima Winner while Holman scored 87 on Korkow's horse Meat Coma.
In the final round Holman and Newman both competed on horses from the Brookman string with Holman edging Newman 89 to 88.5. "This is the best rodeo all year," Holman told former world champion turned broadcaster Dave Appleton.
 2021 World Champion Barrel Racer Jordon Briggs of Tolar, Texas, and her horse Rollo stopped the clock in 16.662 seconds to win the elimination round. Two-time world champ Brittany Pozzi Tonozzi was second with a 16.961 time.
In the final round, Tonozzi changed horses and turned in a time of 16.902. Briggs again rode Rollo and won the $10,000 payout with 16.851.
Briggs told Minnick that the Fort Worth rodeo, then held in Will Rogers Coliseum, was her first big win in 2009. "I love this rodeo," she said, "and Rollo and I will be back Tuesday and Wednesday of next week."
Newly crowned world champion Martha Angelone dominated the breakaway roping. A Virginia native who now lives in Stephenville, Texas, Angelone set a near arena-record time of 1.87 seconds in the elimination round. The only other roper to connect was 2021 reserve world champ Shelby Boisjoli, a Canadian who also lives in Stephenville, with a time of 12.15 -2.15 with a 10-second penalty.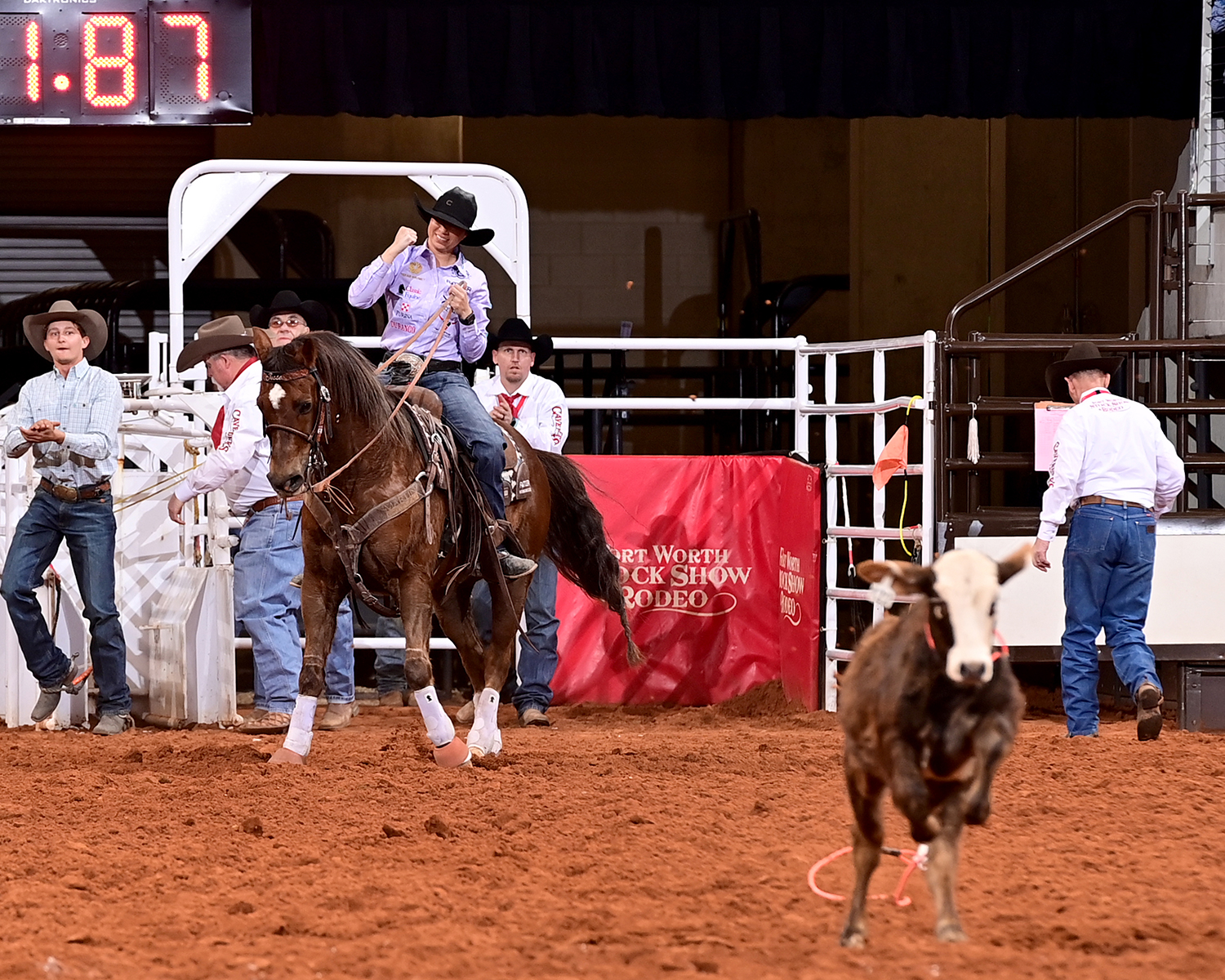 ---
Boisjoli again broke the barrier in the final round, giving Angelone plenty of room to make a solid run to win first. But Angelone again went all out, again stopping the clock in 1.87 seconds. The almost unbelievable feat proved the reigning champ is at the top of her game as the 2023 season gets into full swing.
Freestyle bullfighting returned to the Texas Champions Challenge for the second year. Californian Alex McWilliams and Canadian Aaron Mercer fought the first match, with McWilliams' score of 81.5 moving him to the finals.
The second match featured four-time Bullfighters Only World Champion Weston Rutkowski of Haskell, Texas, and Tyler Mansell of Caldwell, Idaho. Rutkowski showed why he's one of the best freestyle bullfighters in the world with a score of 87, three points better than Mansell.
McWilliams and Rutkowski fought a close duel in the final round with McWilliams scoring 86 points and Rutkowski earning 87.5 to win the event and $10,000.
The bull riding proved to be a two-man match. In the elimination round only NFR cowboys Trey Kimzey of Cheyenne, Oklahoma, and Josh Frost of Randlett, Utah, managed to stay on for the required eight seconds. Kimzey scored 85.5 points on Mazca Pro Rodeo's bull Thunder Dome. Frost was a point behind at 84.5 on Brookman Rodeo's bull Silver Tongue Devil.
They came back in the finals with Kimzey scoring 88 points on Brookman's bull Devils Eye and Frost conquering Mazca's Rock Salt & Nails for 90 points to win the event.
Frost voiced a sentiment that many cowboys and cowgirls have made since the Fort Worth Stock Show & Rodeo moved to Dickies Arena in 2020 when he told Appleton and the crowd "Dickies Arena is the nicest arena I've ever rode in."
The third FWSSR Pro Rodeo Tournament rides into Dickies Arena Friday night at 7:30 p.m. for the first of 16 performances. The event culminates with the Championship Finals on February 4.
FORT WORTH, Texas — The following are winners from the Texas Champions Challenge rodeo at the Fort Worth Stock Show and Rodeo, January 19, 2023.
Bareback Riding-Elimination Round: 1, Jess Pope, Garnett, Kan., on Korkow Rodeos' Ringworm. 2, Ty Pope, Garnett, Kan., 85.5. 3, Cole Reiner, Buffalo, Wyo., 84.5, 4, (tie) Chad Rutherford, Hillsboro, Texas, and Leighton Berry, Weatherford, Texas, 83.5. Head to Head Round: 1, Jess Pope, 89 points on Brookman Rodeos' Boozy Beaver, $10,000. 2, Ty Pope, 87, $4,000.
Steer Wrestling-Elimination Round: 1, Tristan Martin, Sulphur, La., 3.97 seconds. 2, J.D. Struxness, Perrin, Texas, 4.31. 3, Talon Roseland, Summit, Miss., 4.32. 4, Tyler Waguespack, Gonzales, La., 4.75. Head to Head Round: 1, Martin, 5.29 seconds, $10,000. 2, Struxness, 4.59, $4,000.
Saddle Bronc Riding-Elimination Round: 1, Sage Newman, Melstone, Mont., 90.5 points on Mazca Pro Rodeo's Ima Winner. 2, Lefty Holman, Visalia, Calif., 87. 3, Kolby Wanchuk, Sherwood Park, Alberta, Canada, 86.5. 4, Zeke Thurston, Big Valley, Alberta, Canada, 86. Head to Head Round: 1, Holman, 89 points on Brookman Rodeo's Beaver Trail, $10,000. 2, Newman, 88.5, $4,000.
Barrel Racing-Elimination Round: 1, Jordon Briggs, Tolar, Texas, 16.662 seconds. 2, Brittany Pozzi Tonozzi, Lampasas, Texas, 16.961. 3, Cheyenne Wimberley, Stephenville, Texas, 17.048. 4, Hailey Kinsel, Cotulla, Texas, 21.735. Head to Head Round: 1, Briggs, 16.851 seconds, $10,000. 2, Tonozzi, 16.902, $4,000.
Breakaway Roping-Elimination Round: (two times) 1, Martha Angelone, Stephenville, Texas, 1.87 seconds. 2, Shelby Boisjoli, Stephenville, Texas, 12.12. Head to Head Round: 1, Angelone, 1.87 seconds, $10,000. 2, Boisjoli, 12.25, $4,000.
Freestyle Bullfighting: Match 1 – 1, Alex McWilliams, Paso Robles, Calif., 81.5 points. 2, Aaron Mercer, Calgary, Alberta, 78.5.  Match 2 – 1, Weston Rutkowski, Haskell, Texas, 87. 2, Tyler Mansell, Caldwell, Idaho, 84.  Head to Head Round: 1, Rutkowski, 87.5 points, $10,000. 2, McWilliams, 86, $4,000.Bull Riding-Elimination Round: (two rides) 1, Trey Kimzey, Cheyenne, Okla.,  85.5 points on Macza Pro Rodeo's Thunder Dome. 2, Josh Frost, Randlett, Utah, 84.5.  Head to Head Round: 1, Frost, 90 points on Mazca Pro Rodeo's Rock Salt & Nails, $10,000. 2, Kimzey, 88, $4,000.
PROVIDED COURTESY OF JOHNA CRAVENS / FORT WORTH STOCK SHOW & RODEO TO TENN TEXAS MEDIA