$1.2 MILLION FORT WORTH PRORODEO TOURNAMENT BEGINS 15-DAY RUN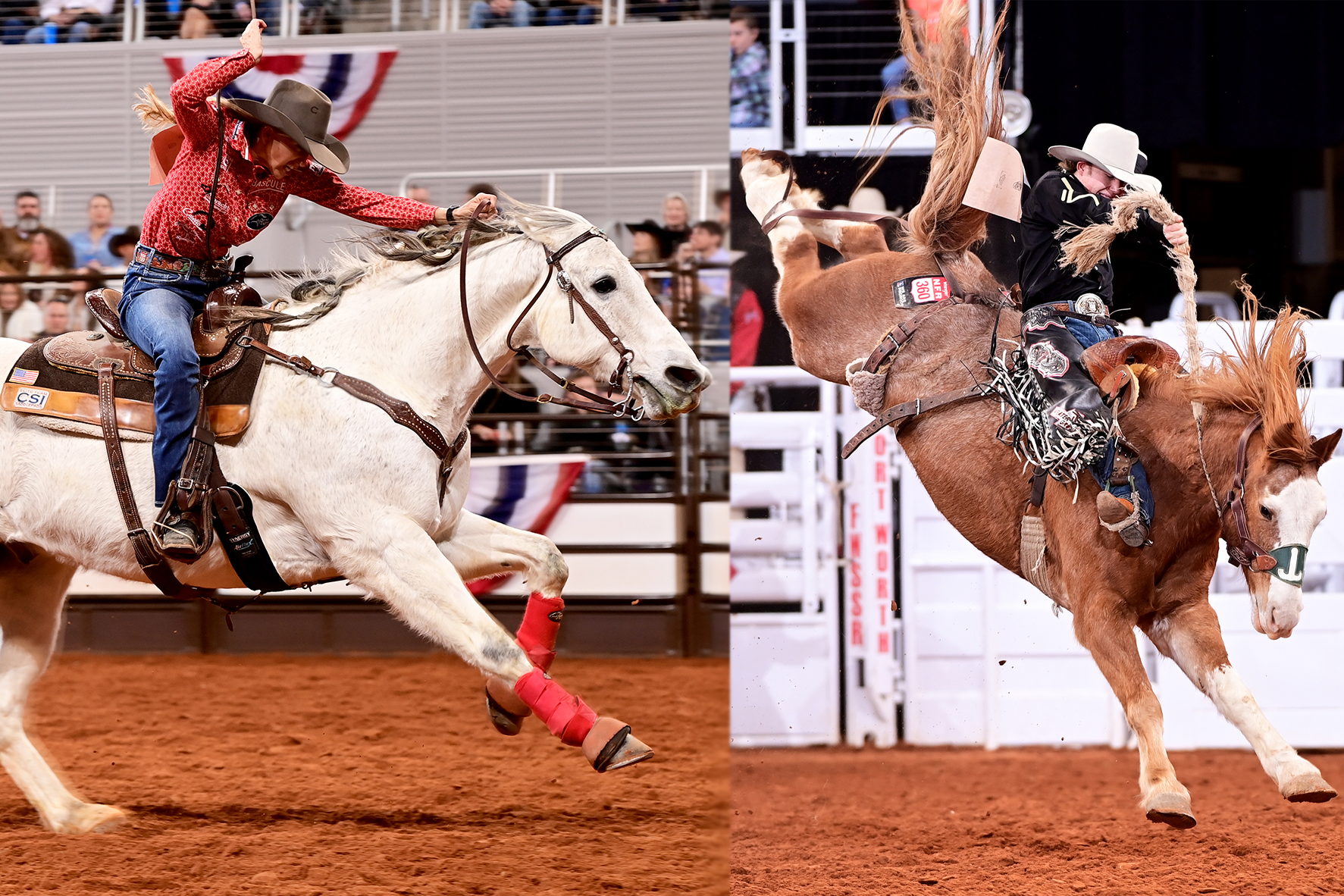 FORT WORTH, Texas (Jan. 20, 2023) The 15-day, $1.2 million Fort Worth Stock Show & Rodeo (FWSSR) ProRodeo Tournament began its third edition at Dickies Arena Friday night. The format features all eight professional rodeo contests. In each event 56 competitors (56 teams in team roping) are divided into seven brackets of eight.
Contestants in each bracket compete in two rounds of back-to-back action. The top two money earners per bracket in each event advance to one of two semi-finals while the third highest money winner advances to the wild card round. Those finishing lower than third go to the non-qualifier pool. The highest remaining money earner in each event in the non-qualifier pool after all brackets are completed advances to the wild card round.
The top two in the wild card round advance to the semifinals and the top four from each semifinal advance to the finals on February 4.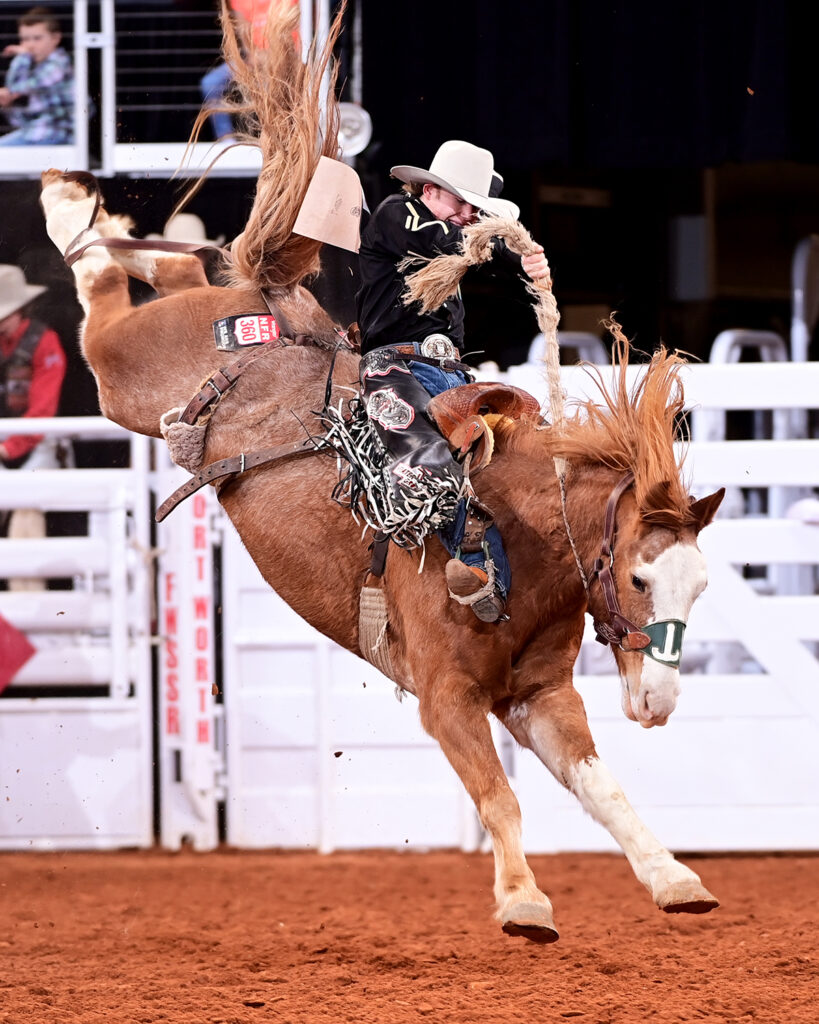 Dawson Hay from Wildwood, Alberta, earned the highest score of the night with an 89.5-point ride on Korkow Rodeos' Joker Poker to win the round in saddle bronc riding. Hay, 24, has qualified for three National Finals Rodeos (NFR). The younger son of 20-time NFR bronc rider Rod Hay, Dawson comes by his talent honestly. In fact, he earned saddle bronc riding rookie of the year honors in 2018, 29 years after his dad won the same title.
---
Hay will be shooting for another win Saturday night to secure a semifinals berth.
Cheyenne Wimberley, the five-time NFR barrel racer from Stephenville, Texas, bested a tight field in her event with a time of 16.39 seconds. Wimberley is something of a Renaissance woman. She graduated from Tarleton State University summa cum laude with a degree in clinical rehabilitation and a minor in nutrition. She's worked as an insurance adjuster, spent time flipping houses and runs her own real estate firm which specializes in farms and ranches, especially horse properties. She and her parents run Cowboy Classic Saddlery which produces around 1,000 saddles annually and she's quite successful on the futurity level of barrel racing as well.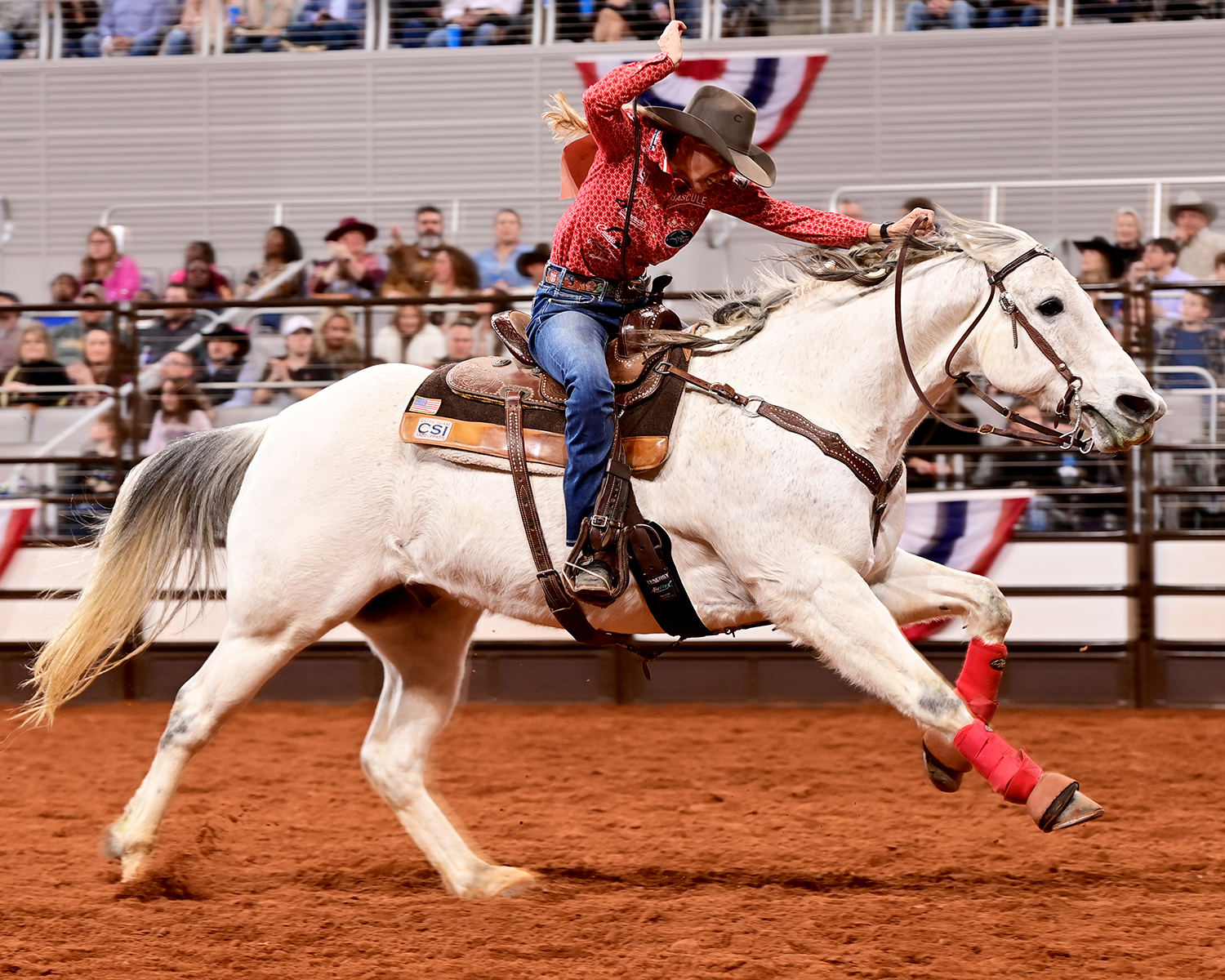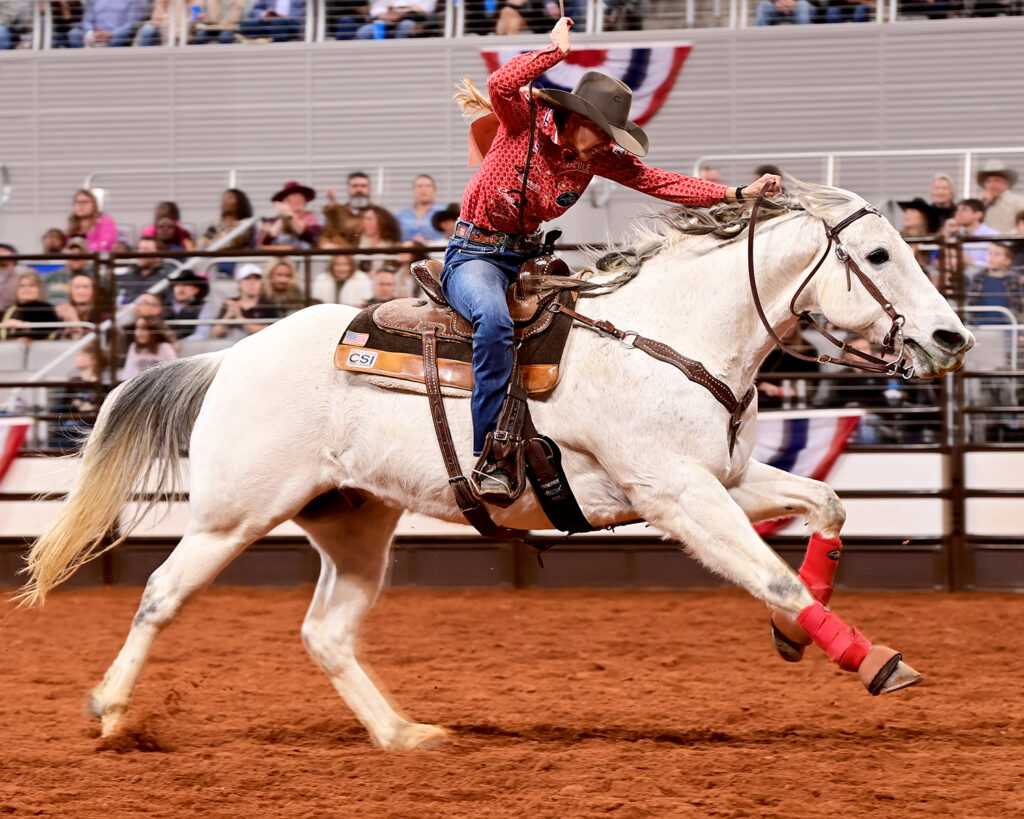 ---
Jordan Hansen of Amisk, Alberta, Canada, matched with Rafter G Rodeo's bull Thor for 86 points to win the bull riding. Since only three cowboys made a successful ride, Hansen was the night's highest money winner. The two-time NFR bull rider finished the past two seasons ranked among the top 25, but out of the NFR field. A strong start at Fort Worth could set the tone for a winning season that returns him to Las Vegas.
There was a concerning moment in bareback riding when reigning world champion Jess Pope was slow to get up after hitting the ground off Mazca Pro Rodeo's horse Star Struck. The hard-to-track bucking horse gave Pope a stinger as she left the chute, causing Pope's arm to go numb. He plans to be back in action Saturday night along with the rest of the bracket one contestants.
Action starts at 7:30 p.m. at Dickies Arena.
FORT WORTH, Texas — The following are unofficial results from the Fort Worth Stock Show & Rodeo's Pro Rodeo Tournament, January 20, 2023.
Bareback riding: 1, Cole Reiner, Buffalo, Wyo., 86.5 points on Brookman Rodeo's Joe Dirt, $1,760. 2, Kody Lamb, Sherwood Park, Alberta, Canada, 82, $1,320. 3, (tie) Tucker Zingg, Crow Agency, Mont., and Ty Fast Taypotat, Nanton, Alberta, Canada, $660 each.
Steer wrestling: 1, (tie) Ty Allred, Tooele, Utah, and Walt Arnold, Coleman, Texas, 4.4 seconds, $1,540 each. 3, Ryan Shuckburgh, Innisfail, Alberta, Canada, 4.5, $880. 4, Gavin Soileau, Bunkie, La., 4.9, $440.
Breakaway roping: 1, Lynn Smith, Elfrida, Ariz., 2.2 seconds, $1,760. 2, Jacey Fortier, Billings, Mont., 3.4, $1,320. 3, Brighton Bauman, Burleson, Texas, 3.5, $880. 4, (tie) Ashley Goforth, Azle, Texas, and Erin Johnson, Fowler, Colo., 12.0, $220 each.
Saddle bronc riding: 1, Dawson Hay, Wildwood, Alberta, Canada, 89.5 points on Korkow Rodeos' Joker Poker, $1,760. 2, Cort Sheer, Elsmere, Neb., 88, $1,320. 3, (tie) Spencer Wright, Milford, Utah, and Zeke Thurston, Big Valley, Alberta, 84, $660 each.
Tie-down roping: 1, Brush Minton, Witter Springs, Calif., 8.2 seconds, $1,760. 2, John Douch, Huntsville, Texas, 9.0, $1,320. 3, Bo Pickett, Caldwell, Idaho, 9.2, $880. 4, Cash Edward Hooper, Carlsbad, N.M., 9.8, $440.
Team Roping: 1, Nelson Wyatt, Clanton, Ala., and Chase Tryan, Helena, Mont., 5.4 seconds, $1,760 each. 2, Jaxson Tucker, Statesville, N.C., and Wyatt Cox, Arroyo Grande, Calif., 5.6, $1,320 each. 3, Andrew Ward, Edmond, Okla., and Buddy Hawkins II, Stephenville, Texas, 5.7, $880 each. 4, Chad Masters, Cedar Hill, Tenn., and Trey Yates, Pueblo, Colo., 6.1, $440 each.
Barrel Racing: 1, Cheyenne Wimberley, Stephenville, Texas, 16.39, $1,760. 2, Emily Beisel, Weatherford, Okla., 16.44, $1,320. 3, Leslie Smalygo, Skiatook, Okla., 16.58, $880. 4, Stevi Hillman, Weatherford, Texas, 16.98.
Bull Riding: (three rides) 1, Jordan Hansen, Amisk, Alberta, Canada, 86 points on Rafter G Rodeo's Thor, $1,907. 2, Coy Ferguson Robbins, Camrose, Alberta, Canada, 84, $1,467. 3, Kobe Curtis Whitford, Cut Bank, Mont., 83, $1,027.
PROVIDED BY JOHNA CRAVENS / FORT WORTH STOCK SHOW & RODEO TO TENN TEXAS MEDIA