THREE FAMOUS ATHLETES JOIN THE FAMOUS BUTTER COW AT THE IOWA STATE FAIR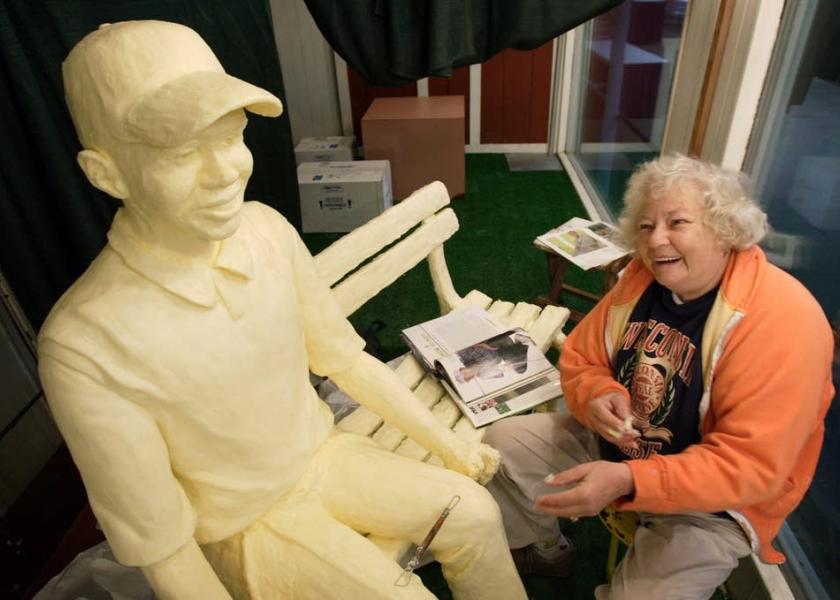 A few things you can count on if you make your way to Des Moines, Iowa for the Iowa State Fair—corn dogs, livestock shows and the iconic Iowa State Fair butter cow.
Although, this year, some famous athletes will share the cooler with the butter cow, including Jack Trice, Iowa State's first African American athlete, Kurt Warner, the only person to be inducted into both the Pro Football Hall of Fame and the Arena Hall of Fame and Caitlin Clark, University of Iowa women's basketball standout player.
The butter sculptures will be on display in the John Deere Agriculture Building from 9 a.m. to 8 p.m., during the Iowa State Fair, August 10-20, 2023.
History of the Butter Cow
For nearly a half century, Norma 'Duffy' Lyon was the 'butter cow lady' at the Iowa State Fair. Lyon, who farmed with her husband, Joe, in Toledo, Iowa, sculpted her last butter cow in 2005. Her sculptures included cows, Garth Brooks, a Harley-Davidson motorcycle, Elvis and even Jesus and his disciples.
Lyon learned sculpting while earning her veterinary science degree at Iowa State University and working alongside her husband on the family farm.
The Iowa State Fair has featured a butter cow every year since 1911 as a promotion for dairy products, and Lyon got her start after working briefly under her predecessor, Earl Dutt, whose work didn't overly impress her.