DISABILITIES DON'T HOLD KIDS BACK FROM"BREAKING BOUNDARIES" AT OHIO STATE FAIR PIG SHOW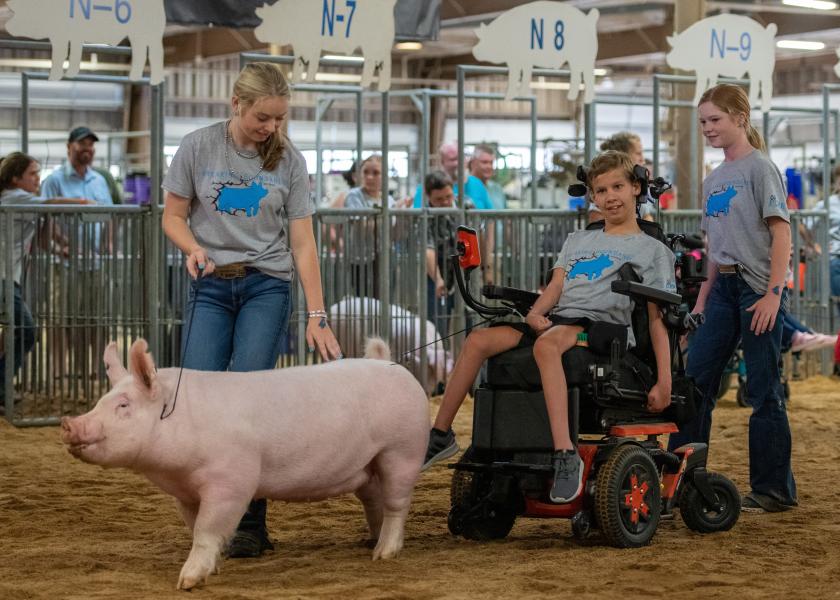 A wheelchair didn't stop Joel from showing a pig at the 2023 Ohio State Fair. Joel was one of many participants between 9 and 22 years old with intellectual and/or developmental disabilities who made their debut in the show ring during the first "Breaking Boundaries" Pig Show.
With the assistance of 25 youth mentors from the Ohio Pork Council's OH-PIGS program, these participants enjoyed their first "center-ring" opportunity to care for and show pigs. Each participant was furnished with their own show pig and paired with a mentor to help guide them in their experience.
"We know the real-world life lessons that are gained in the show ring for so many youths around Ohio and the nation and we wanted to create that type of opportunity for this special group of young people, too," explains Kelly Morgan, OH-PIGS manager, and Ohio State Fair assistant swine superintendent.
Joel's partner, Miley Caldwell of Leesburg, Ohio, says being a mentor was a great opportunity and opened her eyes to deeper understanding of others.
"Even though Joel was in a wheelchair, he was still very capable of showing a pig. He wasn't scared," Caldwell says. "He was really excited about showing and he did a great job."
Caldwell is not new to the show ring and has been active showing pigs in Ohio and throughout the country. She decided to say yes to being a mentor in this inaugural event because she thought it would be a good opportunity to meet new people and work with others outside of the swine industry.