HANCHEY SWINGS AT 2ND CHEYENNE FRONTIER DAYS CHAMPIONSHIP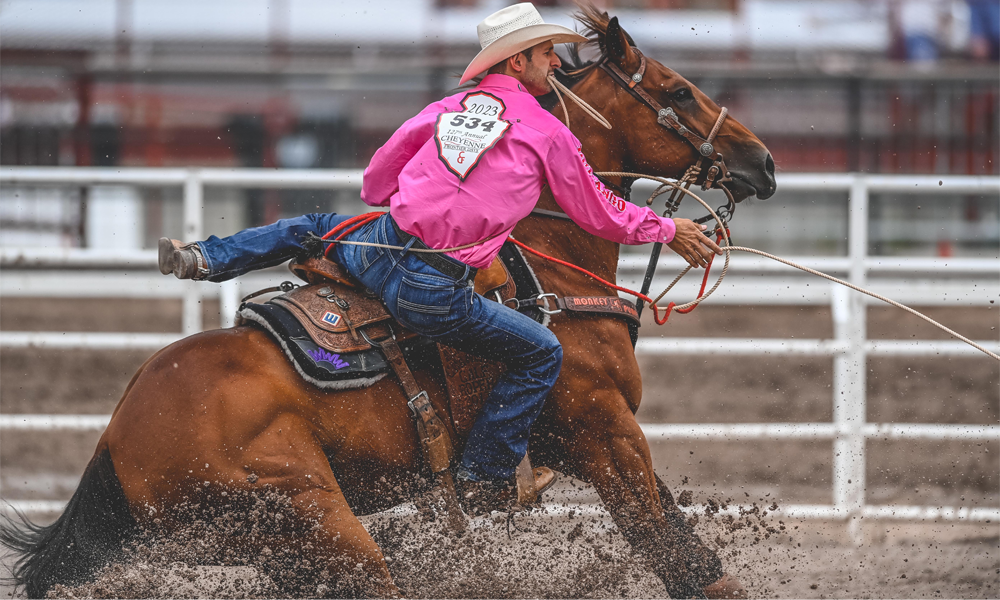 CHEYENNE, Wyo., July 27, 2023 — Former world champion Shane Hanchey won his first Cheyenne Frontier Days Rodeo (CFD) tie-down roping championship in 2018. Five years later the Louisiana native is swinging his rope in hopes of catching another title at the "Daddy of 'em All."
Although he did not place in the qualifying round at CFD last week, Hanchey won Quarter Finals 6 on Thursday to punch his ticket to Friday's Semi Final. Another good run on Friday will put him into Championship Sunday for a chance to rope the title.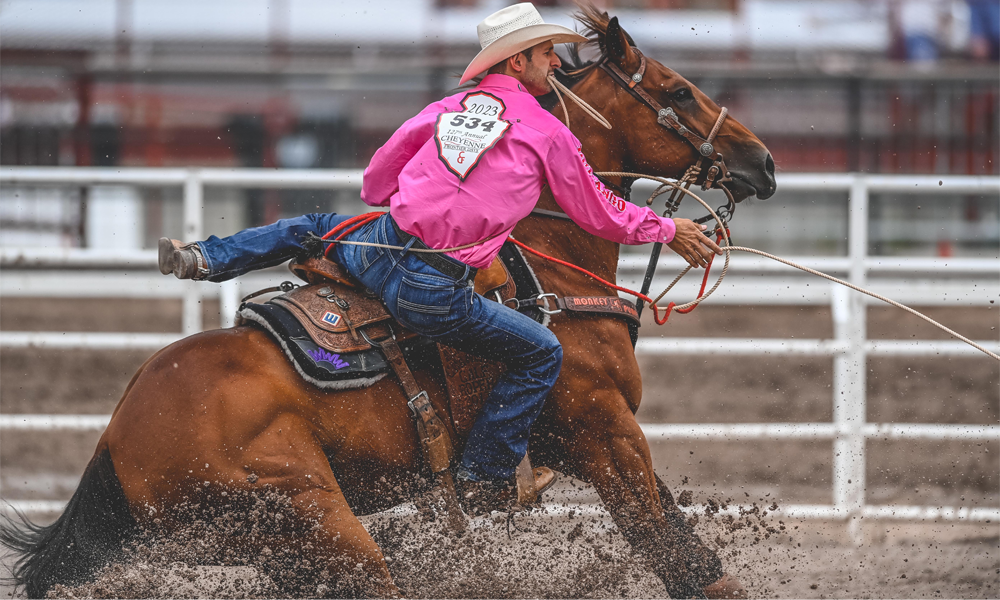 Hanchey is currently ranked sixth in the world standings and headed to his 14th Wrangler National Finals Rodeo (NFR). Hanchey is fresh off wins this month at St. Paul, Oregon, and Salt Lake City where he earned the gold medal and $10,000.
The judges have scored several bull rides in the 90s at the 127th CFD and Boudreaux Campbell of Crockett, Texas, joined that group with a 90-point effort on Dakota Rodeo's bull named Melanie's Dream Thursday at Frontier Park.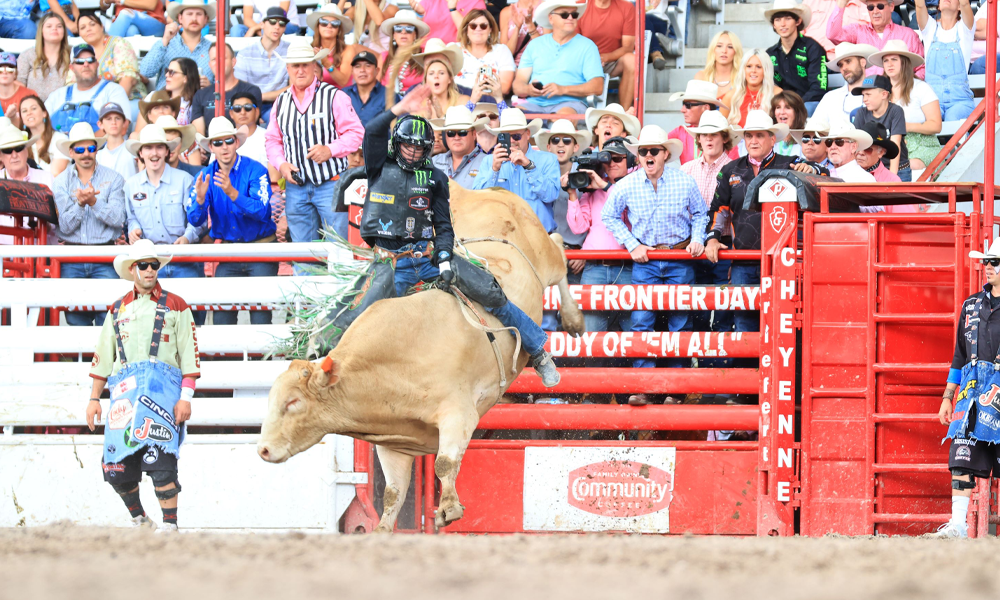 Campbell needed a high score to win Quarter Finals 6 and qualify for Friday's Semi Finals. Bull riders here get two chances to advance to the Semi Finals in consecutive performances. The top six each day earn a Semi Finals berth, and Campbell had bucked off his first bull on Wednesday.
Campbell finished 8th in the Professional Bull Rider's (PBR) Unleash The Beast Tour in May and has been dividing his time between rodeos and PBR events. He competed in Frontier Park on Monday and Tuesday night as a member of the Carolina Cowboys PBR team.
Thursday's barrel racing was one of the toughest Quarter Finals in barrel racing with 9 of the 11 cowgirls posting times of under 18 seconds. The quickest run of this fast group was made by Pawhuska, Oklahoma's Wenda Johnson. Johnson, who has qualified for the past three NFRs, rode her bay gelding Steal Money, nicknamed Mo, to win the day with a time of 17.20.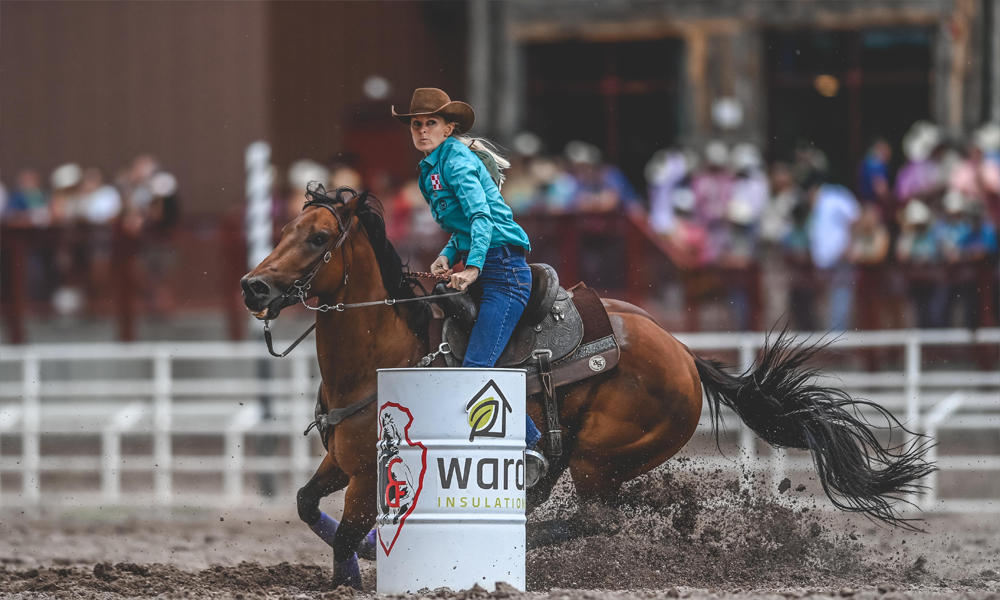 A nurse practitioner, Johnson earned a doctorate of nursing in the spring of 2021. She works part-time in the emergency department, homeschools her two daughters and helps her rancher husband as well as being one of the top barrel racers in the world.
The first Semi Finals begins Friday at 12:45 when the top six in each event will earn a berth in the final round on Championship Sunday.
---
CHEYENNE, Wyo. (July 27, 2023)- The following are unofficial results from the Quarter Finals (sixth performance) and Semi Finals qualifiers at the Cheyenne Frontier Days Rodeo on Thursday, July 27. Payoff subject to change.
Bareback Riding: 1, Jayco Roper, Oktaha, Okla., 84.5 points on King Wentz Rodeo's Red Velvet, $2,448. 2, Leighton Berry, Weatherford, Texas, 83.5, $1,836. 3, (tie) Will Lowe, Amarillo, Texas, and Kaycee Field, Genola, Utah, 83, $918 each.
Breakaway Roping: 1, Bryana Lehrmann, Lexington, Texas, 4.6 seconds, $2.901. 2, Jacelyn Frost, Randlett, Utah, 4.7, $2,176. 3, Amanda Coleman, Stephenville, Texas, 5.1, $1,450. 4, Danielle Lowman, Gilbert, Ariz., 5.3, $725.
Tie Down Roping: 1, Shane Hanchey, Carmine, Texas, 11.2 seconds, $2,000. 2, Marcos Costa, Tolar, Texas, 12.0, $1,500. 3, Luke Potter, Maple City, Kansas, 12.3, , $1,000. 4, Taylor Santos, Creston, Calif., 13.9, $500.
Saddle Bronc Riding: 1, Karson Mebane, San Luis Obispo, Calif., 85.5 points on Fettig Pro Rodeo's Good Time Girl, $2,354 . 2, Tegan Smith, Winterset, Iowa, 84, $1,766 . 3, Sterling Crawley, Stephenville, Texas, 83, $1,177. 4, Allen Boore, Axtell, Utah, 83., $589.
Team Roping: 1, Cooper and Tucker James White, Hershey, Neb., 8.1 seconds, $2,000 each; 2, Tyler Wade, Terrell, Texas, and Wesley Thorp, Throckmorton, Texas, 8.2, $1,500 each. 3, (tie) Bubba Buckaloo, Kingston, Okla., and J.R. Gonzalez, Maypearl, Texas, 9.2, and Erich Rogers, Round Rock, Ariz., and Paul Eaves, Lonedell, Mo., 8.2, $750 each.
Steer Wrestling: 1, Cameron Morman, Glen Ullin, N.D., 5.4 seconds, $2,000. 2, Eli Lord, Sturgis, S.D., 7.9, $1,500. 3, Reed Kraeger, Waco, Neb., 8.0, $1,000. 4, Payden McIntyre., 8.7, $500.
Barrel Racing: 1, Wenda Johnson, Pawhuska, Okla., 17.20 seconds, $2,413. 2, Sue Smith, Blackfoot, Idaho, 17.37, $1,810. 3, Leslie Smalygo, Skiatook, Okla., 17.44, $1,206. 4, Tara Seaton, Winslow, Ariz., 17.50, $603.
Bull Riding: 1, Boudreax Campbell, Crockett, Texas, 90 points on Dakota Rodeo's Melanie's Dream, 86, $2,397. 2, Stetson Wright, Milford, Utah, 86, $1,798. 3, Trey Holston, Fort Scott, Kansas, 84.5, $1,199. 4, Cullen Telfer, Plant City, Fla., 84, $599. Other Semi Finals qualifiers: Ky Hamilton, Mackay, Queensland, Australia, and Lukasey Morris, Union City, Okla.
The following events do not have Semi Finals.
Rookie Saddle Bronc Riding: 1, Clancy Glenn, Parma, Idaho, 79. 2, Tayson Jones, Howes, S.D., 75. 3, Slade Keith, Stanfield, Ariz., 73. 4, Nick Joyce, Juntaura, Ore., 69.
Wild Horse Race: 1, Hooligan Inc., $550. 2, Cowboy Chaos, $413. 3, Wagon Burners, $275. 4, Team Agin, $138.
PROVIDED COURTESY OF SUSAN KANODE & CHEYENNE FRONTIER DAYS TO TENN TEXAS MEDIA