LOUISIANA BULL RIDER, KOBY RADLEY WINS HIS FIRST FORT WORTH STOCK SHOW & RODEO PRCA XTREME BULLS EVENT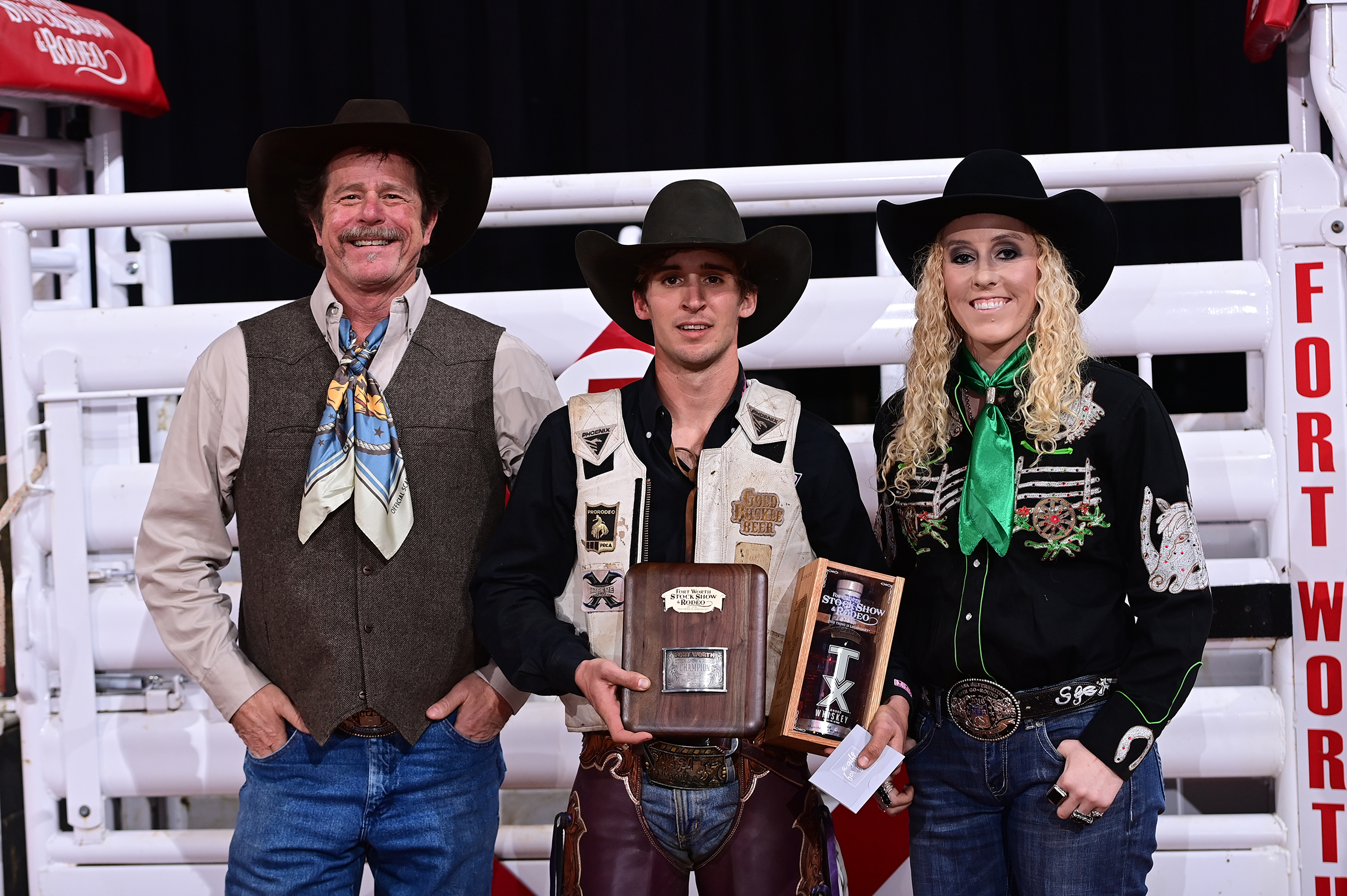 FORT WORTH, Texas (Jan. 18, 2023) Koby Radley has had many career successes in bull riding, but his win at Bulls' Night Out at the Fort Worth Stock Show & Rodeo is a well-timed one.
 Radley, who calls Montpelier, La., home, qualified for the Wrangler National Finals Rodeo (NFR) as one of the top 15 bull riders in the country in 2018 and 2019. Injuries and the reduced rodeo schedule in the height of the pandemic kept him mostly out of competition in 2020 and 2021.
He started a comeback last season with wins at two Florida rodeos in the spring and was ranked in the top 20 in mid-July but dropped to 39th by the end of the season.
The three-time Mississippi high school bull riding champion and winner of the International Finals Youth Rodeo the summer before he started his professional career is ready for banner year in 2023 and he made a good start in Fort Worth.
He was among the first 10 riders to compete and made a qualified ride but was offered a re-ride after his bull fell. The event format features four sections of 10 riders with the top 10 returning in a fifth section for a second bull.
Radley's reride was featured in the second section and he made the most of the mulligan – scoring 86.5 points on Stockyards Pro Rodeo's bull Armageddon. The score tied for fourth in the 80-man field. (Forty riders competed on Tuesday and 40 more on Wednesday nights.)
The highlight of the first round was the return to competition of seven-time world champion bull rider Sage Kimzey. Kimzey had been out of action since last June after having major surgery on his shoulder. He has been chasing the career record of eight bull riding world championships set by his friend Don Gay in the 1970s and 80s. Gay was behind the microphone as Kimzey returned to action in Dickies Arena. The capacity crowd was on its feet as Kimzey rode Big Rafter Rodeo's bull Trunk Monkey for 89.5 points as the last rider in the first section.
No one could best Kimzey's score in the long round and he came into the short round in first place. The cowboys rode in reverse order with the 10th best score riding first. Trey Holston, the third to ride, qualified for his first NFR this past December and is one of the few individuals to have won a national junior high and a national high school rodeo championship. The Kansas cowboy rode Andrews Rodeo's bull Wild Onion for 88 points to push his total score to 172.
Three riders later Radley was back in the spotlight. His ride on Rafter G Rodeo's bull Johnny Thunder was half a point better than Holston and his total on two was 175.5. Jeff Askey of Athens, Texas, became the third rider to make two qualified rides on Wednesday with 81 points on 4L and Diamond S Rodeo's Rodeo Stray.
None of the three cowboys with the highest first round scores were able to stay aboard their bulls for eight seconds although Kimzey came close.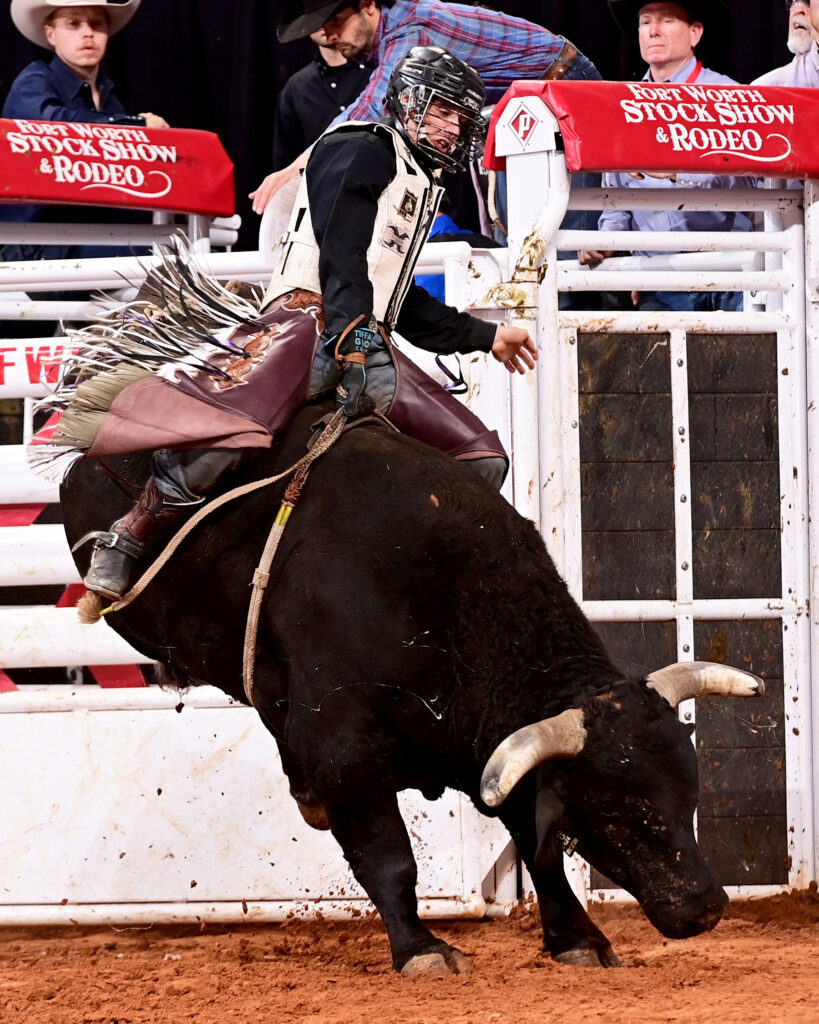 Radley won the short round and $4,500 and then added nearly $9,300 to his winnings by having the best total score. He earned a total of $14,605 – an amount that was more than one-fourth of his 2022 season earnings and bodes well for the 2023 season.
PHOTO CREDIT: JAMES PHIFER
---
The junior bull riding which featured youngsters ages 10 to 15 had a nationwide flavor. Trig Smith of Canton, Texas, won a trophy buckle and $500 with a score of 73 points. He edged out Callaway Wilson of Jackson Hole, Wyoming (71) and Levi Minteer of Naples, New York (66) as well as three fellow Texans.
Thursday night the Texas Champions Challenge rodeo comes to Dickies Arena with winners from five iconic Texas rodeos – Houston, San Antonio, Austin, San Angelo and Fort Worth competing in a team format in six events. The action begins at 7:30 p.m.
FORT WORTH, Texas — The following are unofficial results from Bulls' Night Out – the PRCA Xtreme Bulls event – at the Fort Worth Stock Show and Rodeo, January 17, 2022.
Wednesday night first round: 1, Sage Kimzey, Salado, Texas, 89.5 points on Big Rafter Rodeo's Trunk Monkey. 2, Chance Shott, McLaughlin, S.D., 88. 3, Justin Houston, Sandy, Ore., 87.5. 4, (tie) Koby Radley, Montpelier, La., and Jeff Askey, Athens, Texas, 86.5.
Wednesday night short round: 1, Radley, 88.5 points on Rafter G Rodeo's Johnny Thunder. 2, Trey Holston, Fort Scott, Kan., 88. 3, Askey, 81.
First Round winners: 1, Sage Kimzey, Salado, Texas, 89.5 points on Big Rafter Rodeo's Trunk Monkey, $5,562. 2, Chane Schott, McLaughlin, S.D., 88, $4,265. 3, Justin Houston, Sandy, Ore., 87.5, $3,152. 4, (tie) Coy Thorson, Fergus Falls, Minn., and Shane Proctor, Grand Coulee, Wash., 87. 6, (tie) Jeff Askey, Athens, Texas, and Koby Radley, Montpelier, La., 86.5, $834 each. 8, Patterson Starcher, Fort Scott, Kan., 85.5, $556.
Short Round winners: (four rides) 1, Radley, 88.5 points on Rafter G Rodeo's Johnny Thunder, $4,500. 2, Trey Holston, Fort Scott, Kan., 88, $3,461. 3, Cody Teel, Kountze, Texas, 87.5, $2,596. 4, Askey, 81, $1,854.
Total on Two: 1, Radley, 175 points, $9,271. 2, Holston, 172, $7,108. 3, Teel, 170, $5,253. 4, Askey, 167.5, $3,399. (on one) 5, Kimzey, 89.5, $2,163. 6, Schott, 88, $1,545. 7, Houston, 87.5, $1,236. 8, (tie) Thorson and Proctor, 87, $464 each.
Jr. Bull Riding: 1, Trig Smith, Canton, Texas, 73 points. 2, Calloway Wilson, Jackson Hole, Wyo., 73. 3, Levi Minteer, Naples, N.Y., 64.
PROVIDED COURTESY OF JOHNA CRAVENS FOR FORT WORTH STOCK SHOW & RODEO TO TENN TEXAS MEDIA