All Cowboy & Arena Champions Hall Of Fame Induction & Reunion November 12-13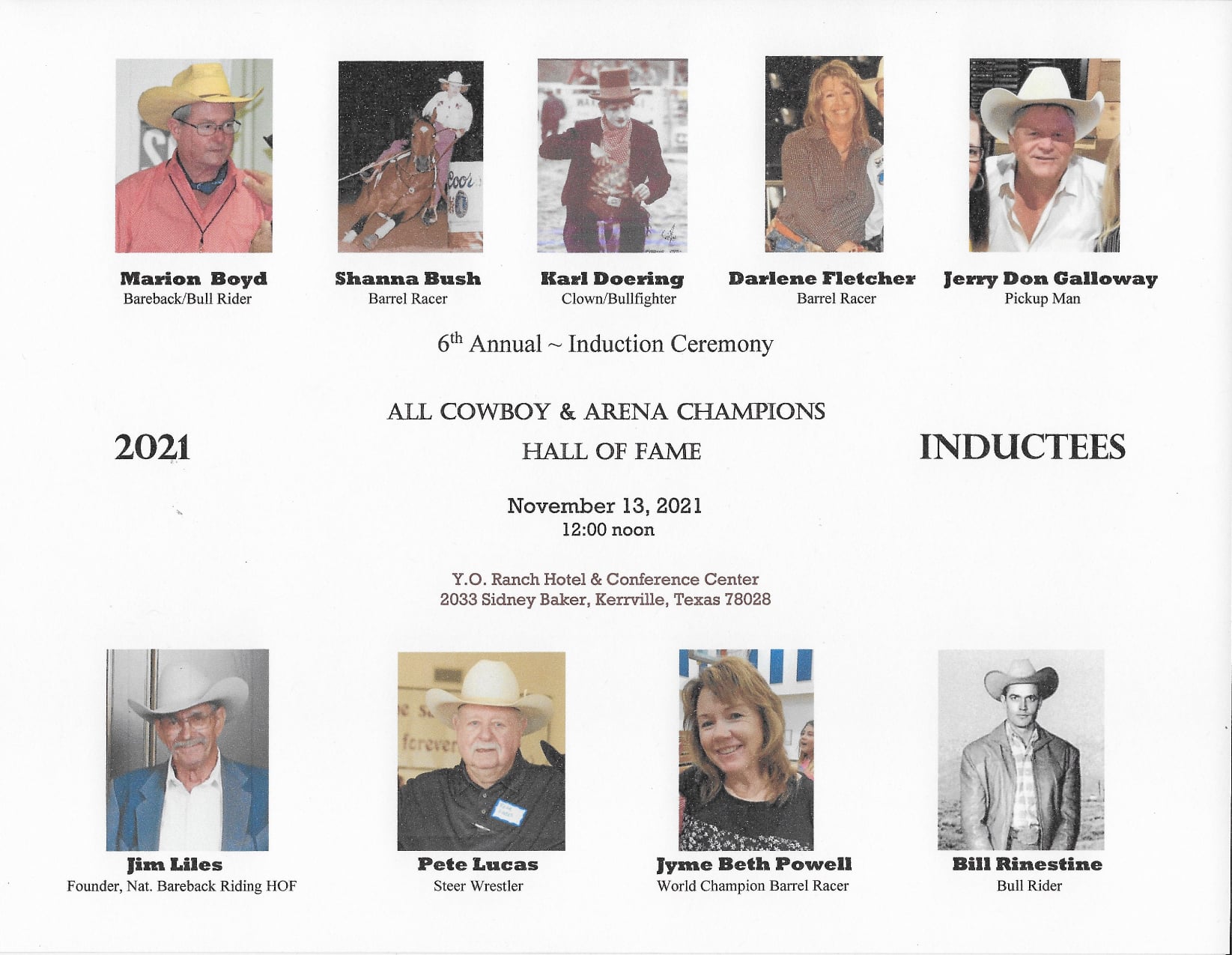 The 2021 Hall Of Fame Inductees will be honored at the 6th Annual Induction & Reunion being held November 12-13 at the Yo Ranch Hilton in Kerrville Texas. The social gathering will begin on Friday with honors being done on Sat.

The 2021 Hall Of Fame Inductees Are:

MARION BOYD
Bareback Rider – Joined PRCA in 1975 and rode bulls & bareback, joined IPRA in 1981 and qualified for the International Finals Rodeo (IFR12) in Tulsa Oklahoma, ranked #14 in Bareback standings. Inducted into the S. Central Tex Rodeo Ring Of Honor in 2018
SHANNA BUSH
Barrel Racer – Gold Card Member in WPRA for 35+ years. Finished in the top 20 in the world standings five times. Made the NFR in 1984. Inducted into the Texas Rodeo Cowboy Hall Of Fame in 2019.
KARL DOERING
Bullfighter – The late Karl Doering of Oregon – fought bulls solo at the first Canadian National Finals Rodeo 1974, inducted into the Pendleton Roundup Hall Of Fame in 1983, NFR alternate bullfighter 1971, organizer of the first Rodeo Clown Reunion in 1974.
DARLENE FLETCHER
Barrel Racer, Two-time IFR qualifier, 1984 IPRA Reserve World Champion. First woman in IPRA history to be ranked in the top 10 all-around standings (barrel racing & team roping)
JERRY DON GALLOWAY
Pickup Man – 1981 NFR Bucking Stock Sale, Twelve-time Texas High School Rodeo Finals, Six-time NTHSRA Finals, Five-time CPRA Finals, Three-time UPRA Finals, Two-time IPRA All Regional Finals, 1992 Alternate Pickup Man for the NFR.
JIM LILES
Former founder & owner of Lazy J Rodeo Safety Equipment, Founder of the Riggins-n-Rhymes Museum and the National Bareback Riding Hall of Fame & Museum
PETE LUCAS
Steer Wrestler, 1960 started SRA & IRA, 1963 elected Vice-President & Steer Wrestling Director of SRA. Set an SRA Steer Wrestling record that still stands today. Joined RCA in 1964 and made all the major shows.
PAT YANCEY
Bull Rider – Two-time CNFR, Texas Circuit Rookie of the Year 1988, Four-time Texas Circuit Finalist, DNCFR 1995, Two-time PBR World Finalist, NFR 1996
JYME BETH POWELL
Barrel Racer – Three-time IPRA World Champion Barrel Racer, Eleven-time International Finals Rodeo (IFR) qualifier, Five-Time IFR Average winner, 6th place in average 1983 NFR.
JIM RINESTINE
Bull Rider, Four-time NFR qualifier, Reserve World Champion 1962, won the Bull Riding at the Madison Square Gardens World Champion Rodeo in 1959.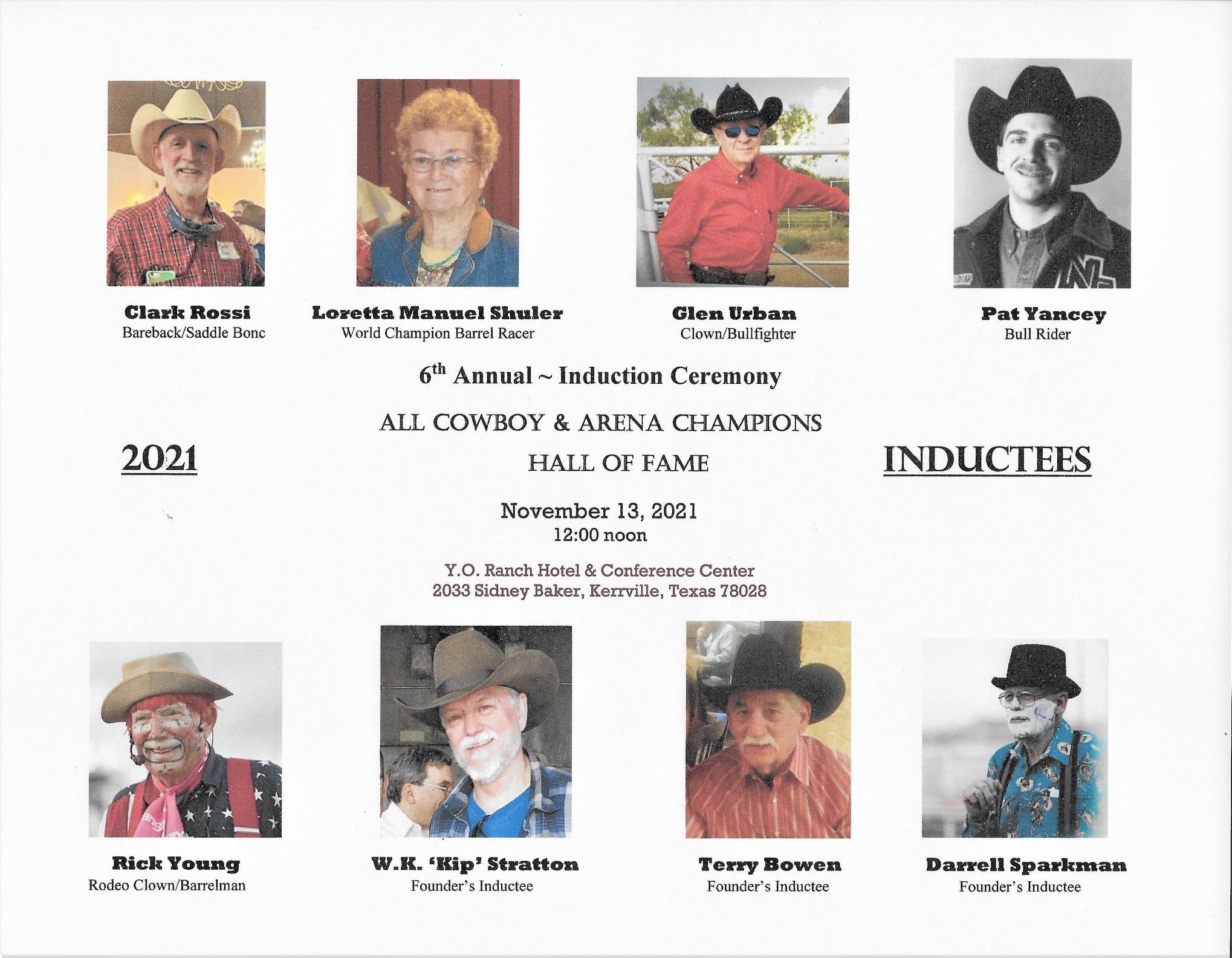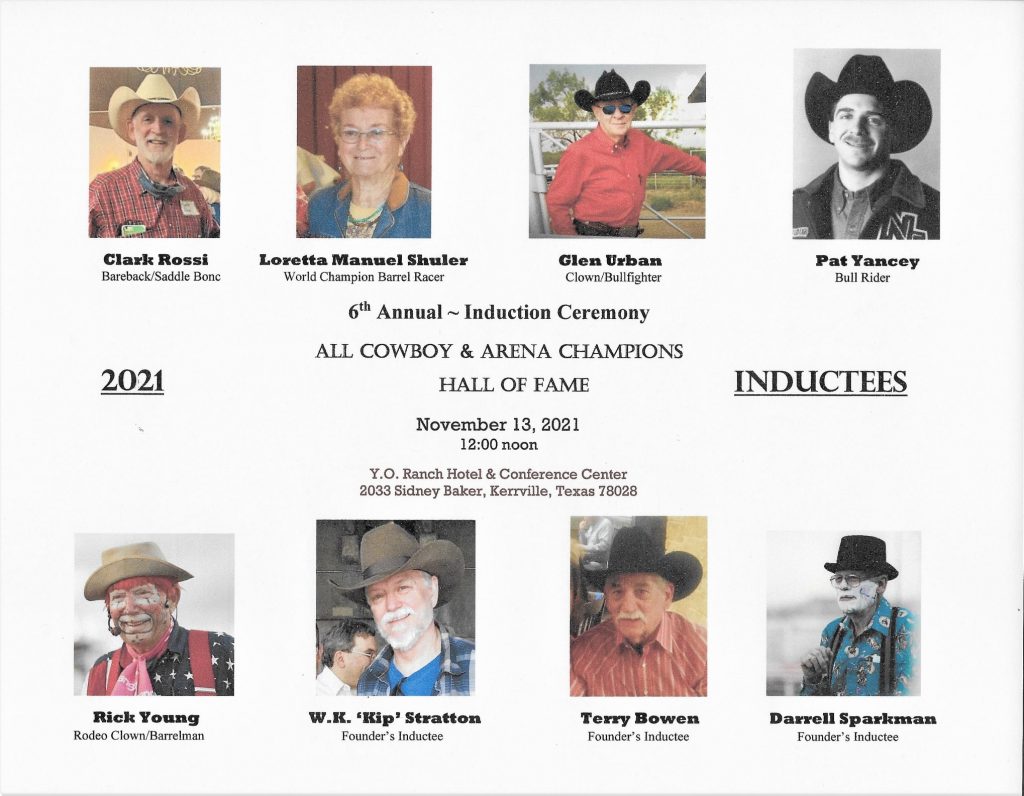 CLARK ROSSI
Saddle Bronc Rider – part of a father-son rough stock team with his father Andrew, rode in both Open & PRCA rodeos in the 80's
LORETTA MANUEL SHULER
World Champion Barrel Racer in 1963 & 1967, 9 trips to the NFR, in 1971 she won 5 go rounds at the NFR – that's just the tip of the iceberg for this lady.
GLEN URBAN
Clown/Bullfighter – Southwestern Rodeo Finals 1971 & 1972 along with Skipper Voss. 1973 voted to work Texas Rodeo Assn. Finals, Joined PRCA in 1974 and worked for Tommy & Bobby Steiner thru 1975.
RICK YOUNG
Rodeo Clown / Bullfighter – 1974 worked the NFR, 1980 PRCA Clown of the Year, Four-time Coors Man in the Can, are just a few of his accomplishments. Rick worked the Sikeston, Missouri rodeo for 50 years!
2021 FOUNDERS INDUCTEES
TERRY L. BOWEN
Clown/Bullfighter – Career spanned 42 years. In 1982 joined IPRA and worked rodeos in California for 5 years, 1985 joined PRCA, had Canadian Pro Rodeo (CPRA) card and worked PBR events. Retired after 42 years at the age of 63.
DARRELL "SPARKY" SPARKMAN
(1933-2003) – Clown/Bullfighter – Career started in 1953 and he clowned until 2002. He did the 1st annual Southwestern Champion Bull Riding in 1962, Pioneer Days in Oakley, ID, All Girls Rodeo Finals in 1977, Cody Night Rodeo in 1999, Flying W in Bandera, TX in 2000 and Devils River Rodeo in Sonora, TX in1978.
W.K. KIP STRATTON
Award-winning author of nine books, including the Los Angeles Times bestseller, The Wild Bunch and Chasing The Rodeo. Contributor to Texas Monthly, Dallas Morning News, Sports Illustrated and other magazines. Member of the Western Writers of America.
Lots of amazing wisdom and stories in this line up. We look forward to the pictures and videos to come and hopefully having some interviews to post here for Tenn Texas Radio.

Congrats to all inductees you are definitely amazing role models and reflect the true legends of the west!