OKLAHOMAN CLAIMS VICTORY AT CODY/YELLOWSTONE XTREME BULLS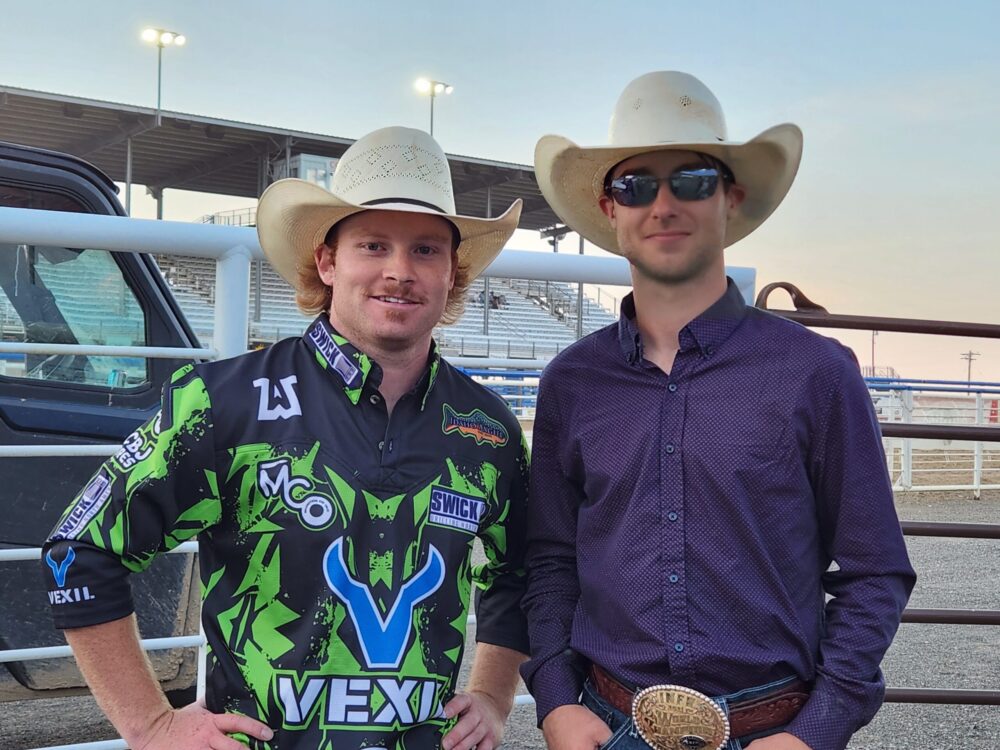 CODY, Wyo., June 30, 2023 — Cannon Cravens came to the Cody/Yellowstone Xtreme Bulls and got just what he wanted, a great bull, a big score and a fat paycheck.
And, it happened just one night after the Porum, Oklahoma, resident won the rodeo at the Greeley (Colorado) Stampede. Cravens road the bull named Jester owned by Frontier Rodeo Company for 88 points. It was just one-half point better than the men in second place, Brazilian Junior Patrick Souza and Garrett Smith, from Rexburg, Idaho who won this event in 2022.
The win added $11,633 to Cravens' checking account and continued his momentum as he begins his "Cowboy Christmas" run. He is competing in Red Lodge, Montana on July 1st, then will return to Cody for the rodeo on July 4.
"I'm going to make a run for the NFR (Wrangler National Finals Rodeo), so I've been entering everything I can," Cravens said.. "This has been awesome. The fans are great, the arena's nice. Everything about this is just sweet."

Cannon Cravens
Prior to Cody's Xtreme Bulls, Cravens was outside of the top 50 in the Professional Rodeo Cowboys Association world standings. He won almost $10,000 at the Greeley Stampede and with the money he won here, his position should improve significantly.
And, if he keeps his momentum going through the Fourth of July, he could add his name to the list of big money earners cashing in during Cowboy Christmas. Following the Xtreme Bulls, five bullfighters showcased their skills in a freestyle competition that saw world standings leader Tyler Mansell rise to the top. Mansell finished his fight with a backflip over the Mexican fighting bull entertaining the fans as well as getting him the win.
Starting the annual Cody Stampede with the Cody/Yellowstone Xtreme Bulls has become a popular tradition at Stampede Park. This year's event was close to a sell out with fans staying for the after party and live music on the rodeo grounds.
The first performance of the Cody Stampede will start at 8 p.m. on Saturday, July 2. Gates open at 6 and fans are encouraged to arrive early and enjoy live music and entertainment on the Plaza.
The following are results from the Cody/Yellowstone Xtreme Bulls competition, June 30, 2023.
1, Cannon Cravens, Porum, Oklahoma, 88 points on Frontier Rodeo's Jester, $11,633. 2, (tie) Garrett Smith, Rexburg, Idaho and Junior Patrik Souza, Sonora, Brazil, 87.5 and $7,755 each. 4, Josh Frost, Randlett, Utah, 87, $4,265. 5, (tie) Hayes Thayne Weight, Goshen, Utah, and Sage Steele Kimzey, Salado, Texas, 85.5, $2,326 each. 7, Jeff Askey, Athens, Texas, 84.5, $1,551. 8, Cody Teel, Kountze, Texas, 82.5, $1,163.