MASSACHUSETTS QUESTION 3: WHAT'S NEXT FOR PORK PRODUCERS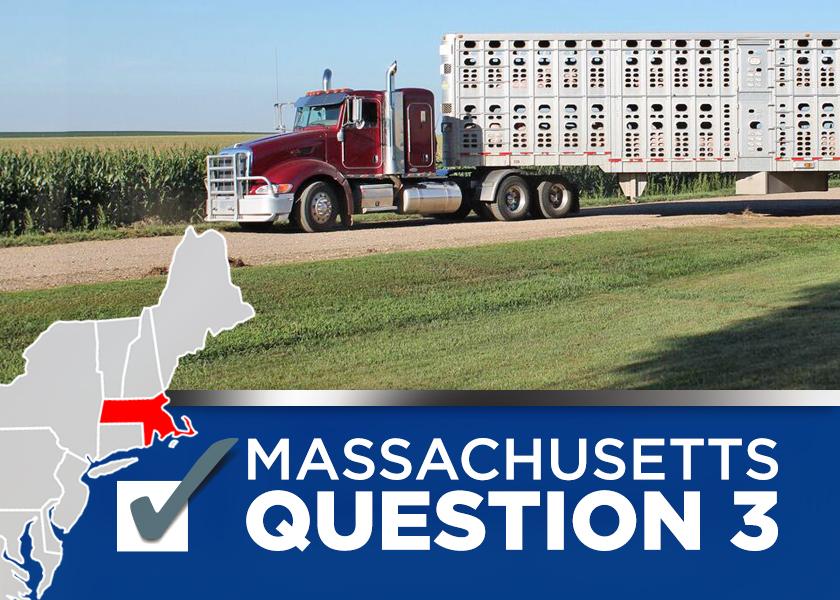 A U.S. District Court for Massachusetts judge has extended the current stay on implementation of Question 3 (Q3) until Aug. 23. Q3, a 2016 ballot initiative in Massachusetts that bans the sale of pork from hogs born to sows housed in pens that don't comply with Massachusetts' standards, was expected to go into effect on July 12.
With several issues regarding implementation still being unclear, NPPC and various New England-based state restaurant associations together with the state of Massachusetts, sought the extension last week to provide more time for Massachusetts to prepare to implement Q3.
"Extending the current stay on implementation of Q3 until August 23 allows Massachusetts to work with NPPC and its coalition partners to address a number of remaining issues under Q3 prior to implementation. This includes, most importantly, allowing the transshipment of pork through Massachusetts so that it can continue to reach other New England states as well as provide guidance to the industry and supply chain to ensure a smooth transition as Q3 is implemented," explains National Pork Producers Council's Chief Legal Strategist Michael Formica.
The History of Question 3
Following approval of Q3 in 2016, Gov. Charlie Baker signed a compromise measure into law delaying implementation until Aug. 15, 2022. On Aug. 11, 2022, the court approved an agreement to delay enforcement of Question 3 until at least 30 days after the U.S. Supreme Court issued a ruling on Proposition 12.
"Following the U.S. Supreme Court's May 11 decision on California Proposition 12, Massachusetts was free to impose production standards on pork being sold in the Massachusetts' marketplace," Formica points out.
Question 3 "prohibits any farm owner or operator from knowingly confining any breeding pig, calf raised for veal, or egg-laying hen in a way that prevents the animal from lying down, standing up, fully extending its limbs, or turning around freely." Exceptions to this rule include temporary holding cells for transportation, fairs, medical research, veterinary exams and other purposes.
This regulation is like Prop 12 in that it bans any uncooked whole pork meat sold in the state that does not meet specific sow housing requirements, regardless of where it was produced. But Formica says Question 3 also doesn't allow the transshipment of whole pork through the state.
What Do Pork Producers Need to Know Now?
f pork operations are otherwise Prop 12 compliant but don't meet the minimum square footage requirements, Formica says they would likely be Question 3 compliant and may be able to market into Massachusetts.
"One of our concerns with Question 3 has been that Massachusetts wants to impose those restrictions on any pork transiting through the state which would cut off supply to most of New England," he points out. "That is something we are continuing to negotiate with them on, and that issue and the court case challenging that position, are very much alive."
The law says pork can enter Massachusetts as long as it's not sold in Massachusetts. But this is where it gets tricky.

For example, if you had a truck filled with pork that was shipped from North Carolina on Interstate 95, and it never stopped in Massachusetts and went to Maine, that would be okay, Formica says.