MACHINERY PETE: COMBINES AND GRAIN CARTS IN HIGH DEMAND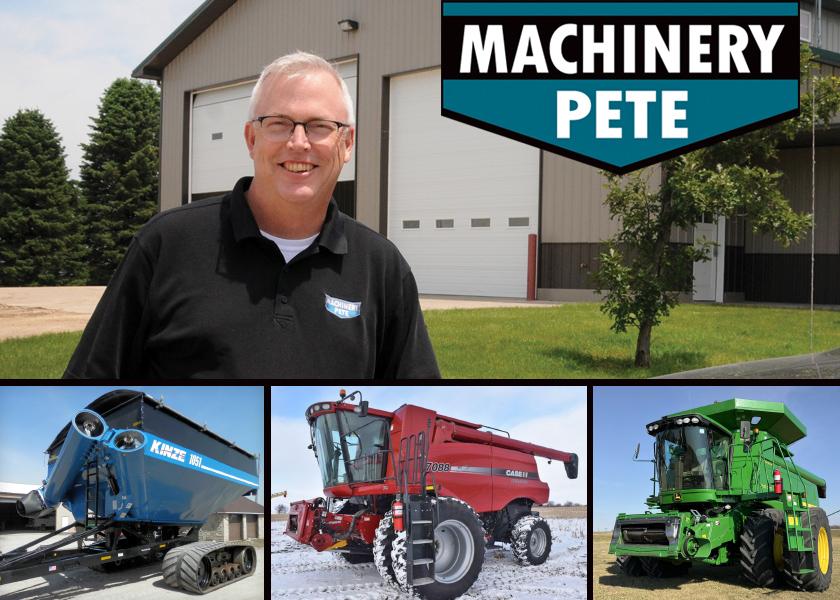 While the drought of 2023 is straining crop conditions, there hasn't been any drought concerns when it comes to auction prices on used farm equipment, including most types of harvest equipment.
Take this Kinze 1051 grain cart for example. Prior to this year, the record auction price on the model was $67,500, which occurred at a Monrovia, Ind., auction on Oct. 20, 2020. That record was surpassed at an April 15 auction in Mansfield, Ohio, when a Kinze 1051 grain cart sold for $76,000. Just two weeks later a 2017 model on tracks sold for $77,500 at a May 4 auction in De Pere, Wis., by Miller 'N Co. Auctions & Appraisals.
Of course, a lack of both new and used grain carts has been a driving force behind rising used values. In my nearly 34 years of tracking the used farm equipment market, I've never seen dealer used inventories so tight. Unprecedented times produce unprecedented auction prices.
Speaking of grain carts, the five highest auction prices during the first half of 2023 were all Brent (see table).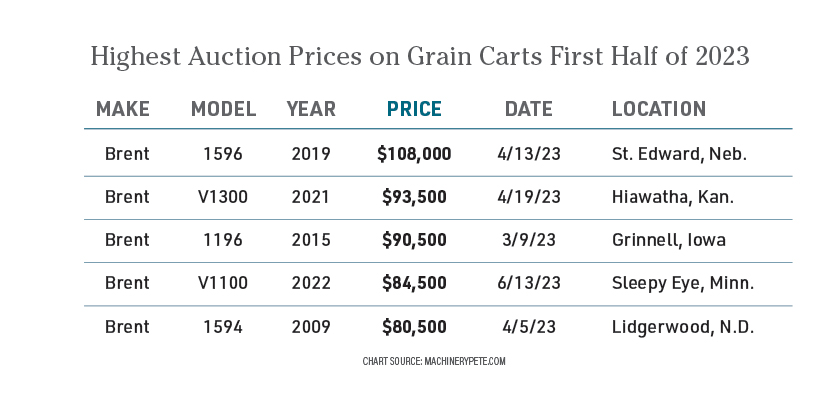 Preharvest: A Good Time to Buy
On the combine front, used inventories on dealer lots around the country have been increasing in 2023 but from historically low levels a year ago. We're beginning to see some attractive offers from dealers on late-model units. Opposite of what you might think, preharvest has actually proved to be a good time to buy. That looks to be the same again this year.
Our Machinery Pete auction prices are showing continued strong buyer demand for older combines in good condition. Case in point: the John Deere 9770 STS model. Manufactured from 2007 to 2011, the average auction price on John Deere 9770s has increased 4.5% so far in 2023 and is up 14.5% versus where it was three years ago (2020). Those rising average auction prices on 10-plus-year-old combines are something I've never seen before.