CASH CATTLE STEADY TO WEAKER, FEEDERS RALLY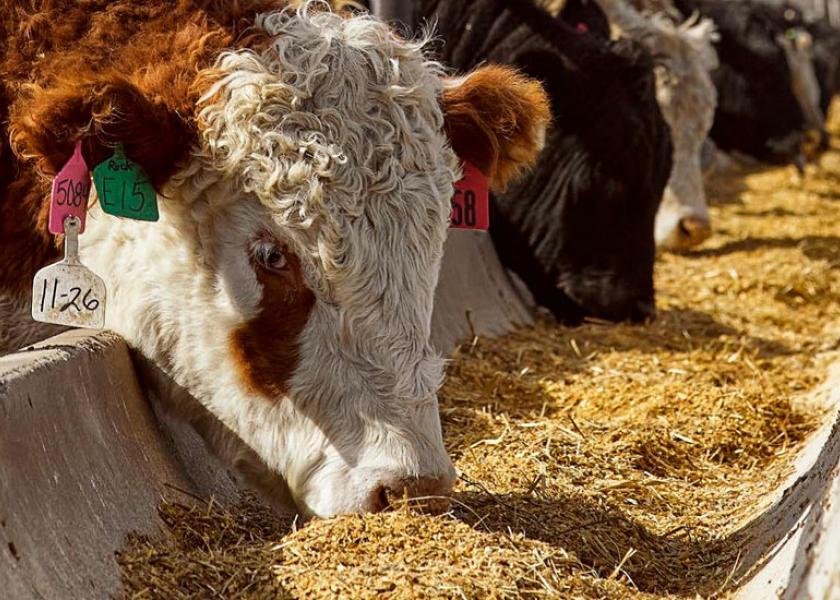 Northern direct cattle trade was called steady in light to moderate volumes, mainly $182 to $184 live and $290 dressed. The South traded mostly at $178 to $179 per cwt., $1 to $2 lower on the week.
Lower corn prices driven by rains in the Corn Belt gave a big boost to feeder cattle prices. Corn futures have declined more than $1 over the past seven trading days. Feeder cattle sold $2 to $10 higher and calves were mixed at $3 lower to $5 higher.
Wholesale beef prices moved lower for the week. Friday's Choice boxed beef closed at $227.72 per cwt., or $6.29 lower for the week. Select closed Friday at $293.63 per cwt., $6.33 lower for the week.
At the CME, stabilizing cash and wholesale prices, along with a seeming bullish response to the corn breakdown, boosted cattle futures Friday. The nearby June contract went off the board at $181.50, up $1.75 at noon, while most-active August jumped $2.675 to $177.175; that's up $6.40 on the week. August feeder futures rocketed $5.20 higher to $247.575, with the daily high of $247.825, representing a fresh all-time high for nearby feeder futures. The close marked a weekly jump of $13.625.
Although this week's cash and wholesale weakness seemed to fulfill bearish expectations for the fed cattle market, those moves didn't dissuade bulls. Indeed, the August live cattle contract ended the week posting a fresh high close at $177.125. The fact that choice cutout remains quite elevated in a historical context seems to imply the potential to rebound in the near future. And while the Monday-Thursday average for cash cattle came in $2.26 below the comparable week-ago figure, the resulting $180.41 average was still about $3.00 over today's August live cattle close. Conversely, the nearby futures discount is certainly within historical norms, which seemingly holds the underlying implication of cash cattle firmness through midsummer.
Meanwhile, today's huge corn acreage number and the bearish futures reaction sent feeder futures rocketing higher on the prospect of relatively cheap feed for the months ahead. Nearby August hit a record high and technicals suggest much more of the same.