STETSON WRIGHT BEGINS DEFENSE OF FORT WORTH BRONC RIDING TITLE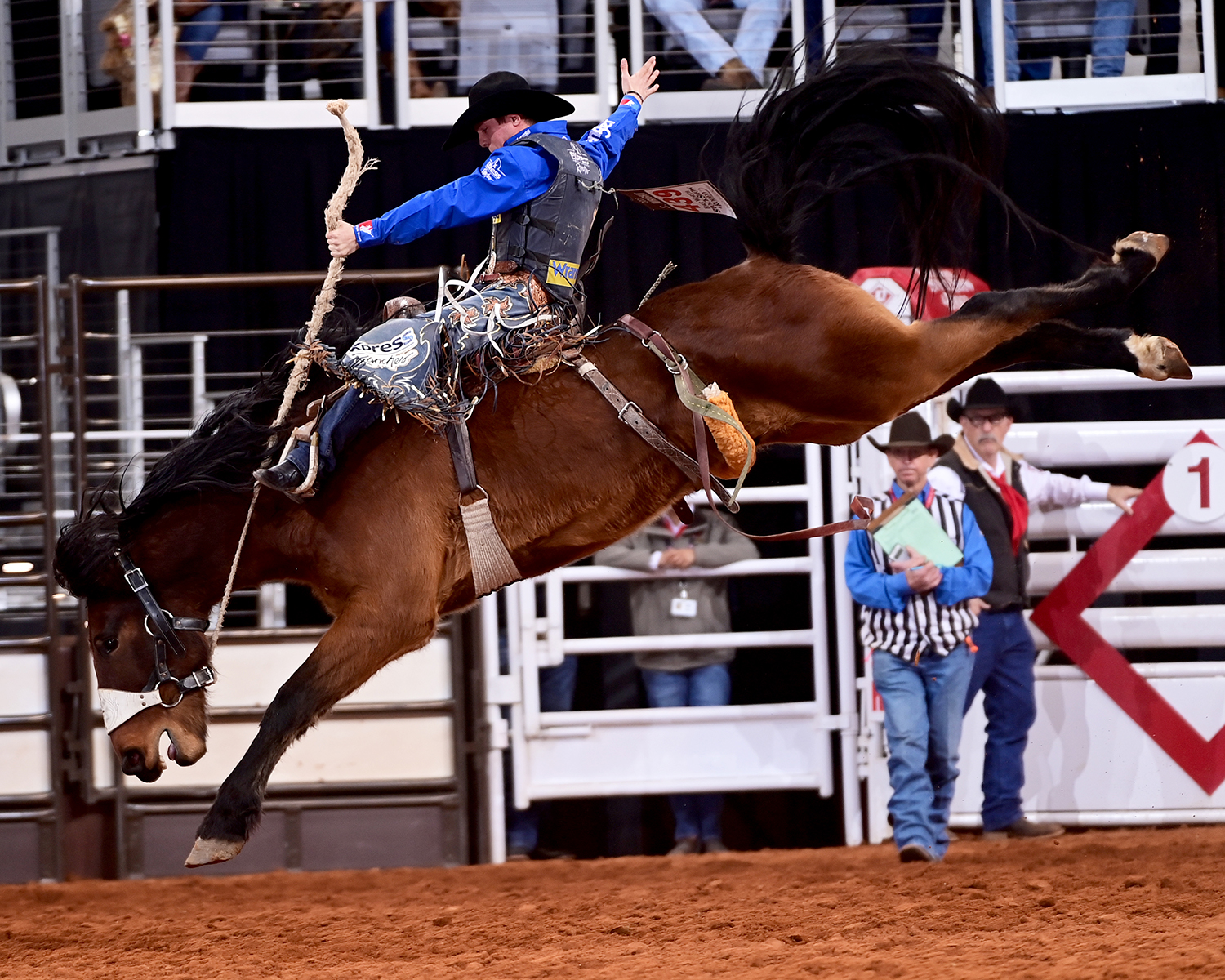 FORT WORTH, Texas (Jan. 30, 2023)—Stetson Wright has won seven professional rodeo world championships by age 23 and it looks like he is just getting started. The Milford, Utah, cowboy won the saddle bronc riding championship at the Fort Worth Stock Show & Rodeo (FWSSR) last year with a record-setting score of 92 points.
Wright started defending his Fort Worth title on Monday when he scored 87.5 points on Sankey Pro Rodeo's bucking horse Overserved and won the first round of Bracket 7 of the 2023 FWSSR ProRodeo Tournament.
The 2022 World Champion Bull Rider and All-Around Cowboy was one of just three cowboys to make a successful bull ride Monday night. Wright would love to advance to the semifinals in both events and have the opportunity to win two events here.
The eight Bracket 7 competitors in each event will compete again in round 2 on Tuesday. That is the final qualifying round of action and the top two money earners in each event will advance to one of two semifinals on February 2 and 3. The third-highest money earner will join those from the previous brackets in Wednesday's Wild Card round.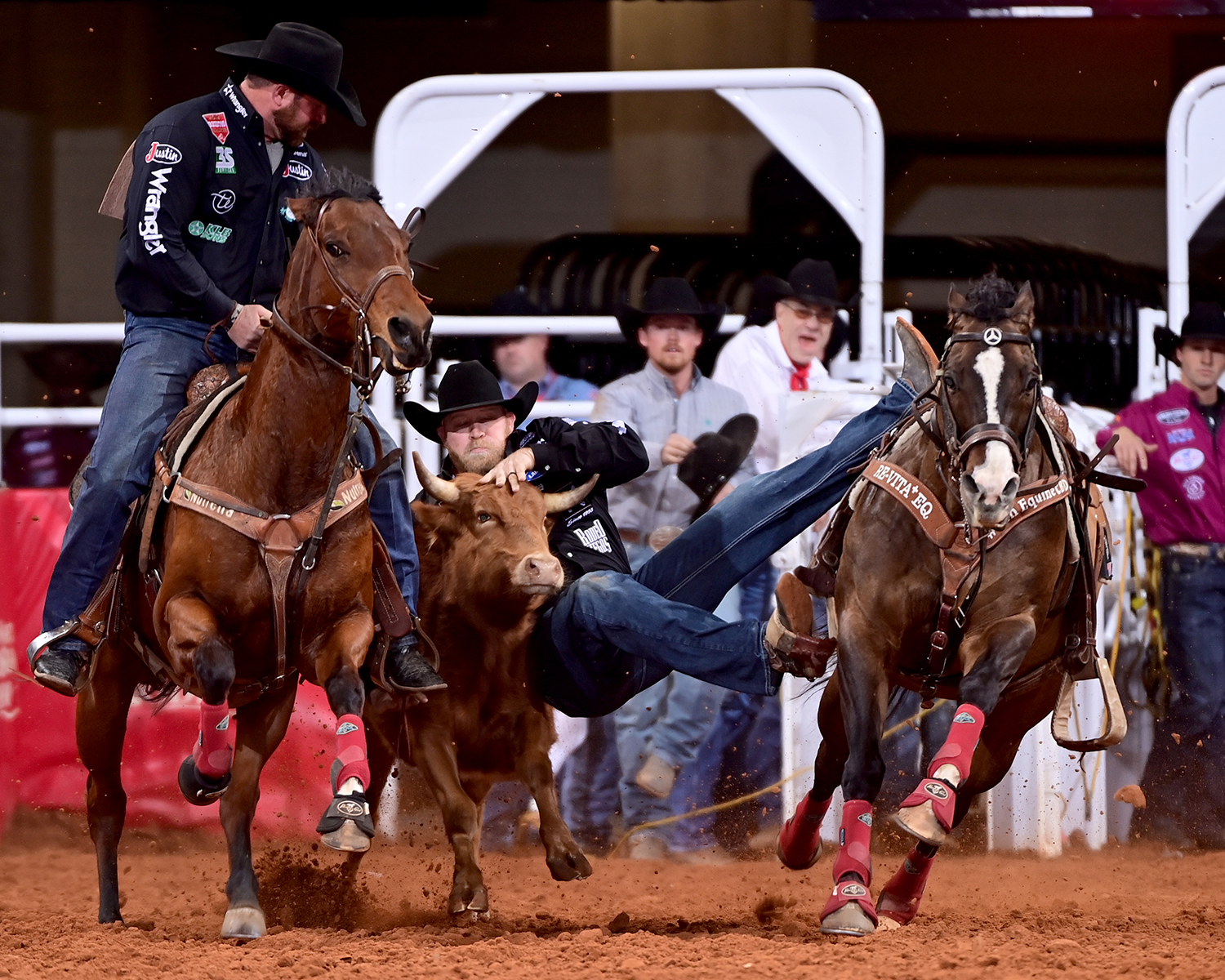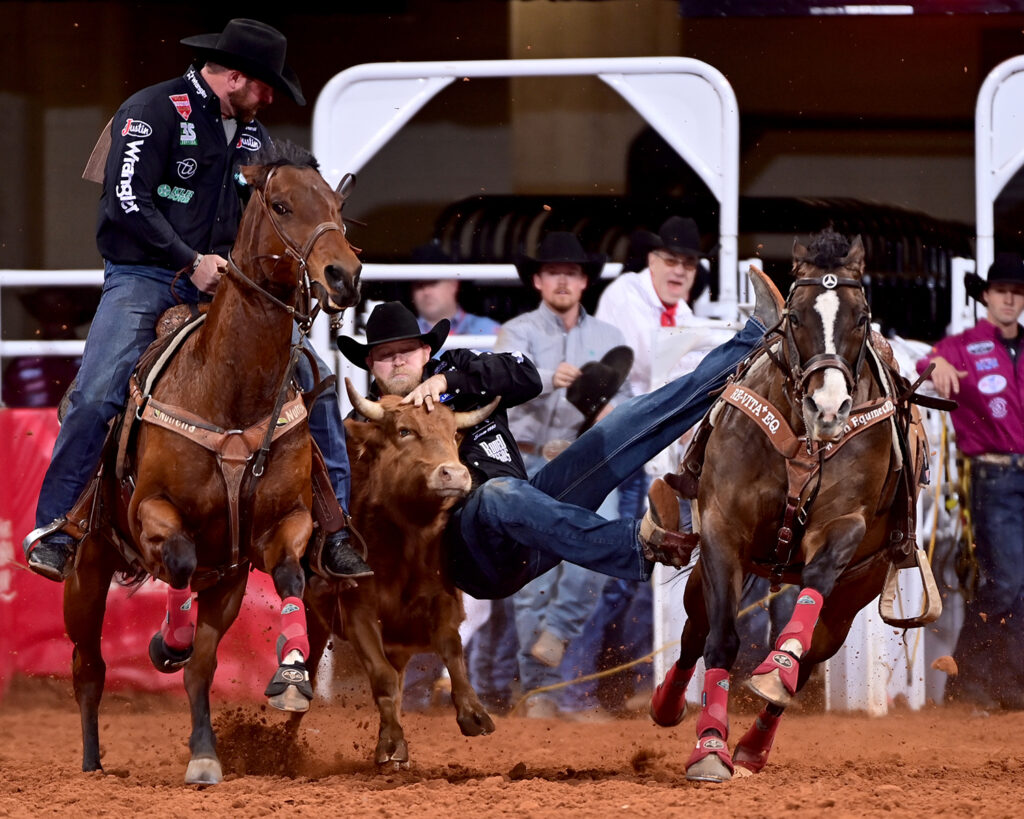 The steer wrestling win in round one of Bracket 7 at the Fort Worth Stock Show & Rodeo's ProRodeo Tournament went to the reserve world champion, Will Lummus. Lummus from Byhalia, Miss., stopped the clock in 4.1 seconds to earn $1,760 in Dickies Arena so far. He will compete in round 2 on Tuesday night and is hoping for more success. Lummus, who is a rodeo coach at a community college near his home, is putting his experience to use in and out of the arena as he helps prepare the next generation of rodeo competitors.  
WSSR photo by James Phifer.
---
Will Lummus, the 2021 and 2022 reserve world champion steer wrestler, took first in the round with a solid run of 4.1 seconds. The Mississippi native recently took a new role as rodeo coach at Northwest Mississippi Community College.
In the bareback riding, former world champion Clayton Biglow rose to the top of the leaderboard. The Californian scored 90 points on Sankey Pro Rodeo's horse Bronc Riding Nation for the lead. Biglow has qualified for the Wrangler National Finals Rodeo seven times and won many of the biggest rodeos in North America, but he would love to add a Fort Worth title to his accolades.
The second round of Bracket 7 will close out the qualifying rounds at Dickies Arena beginning at 7:30 p.m. on Tuesday.
FORT WORTH, Texas — The following are unofficial results from the Fort Worth Stock Show & Rodeo's Pro Rodeo Tournament, January 30, 2023.
Bracket 7, Round 1
Bareback riding: 1, Clayton Biglow, Clements, Calif. , 90 points on Sankey Pro Rodeo's Bronc Riding Nation, $1,720. 2, Gauge McBride, Kearney, Neb., 89, $1,320. 3, Cole Franks, Clarenden, Texas, 87.5, $880. 4, (tie) Dean Thompson, Altamont, Utah, and Cole Goodine, Carbon, Alberta, Canada, 87, $220 each.
Steer wrestling: 1, Will Lummus, Byhalia, Miss., 4.1 seconds, $1,760. 2, Bridger Anderson, Carrington, N.D., 4.2, $1,320. 3, Rowdy Parrott, Mamou, La., 4.3, $880. 4, Stan Branco, Chowchilla, Calif., 4.8, $440.
Breakaway roping: 1, Joey Williams, Volberg, Mont., 2.6 seconds, $1,760 . 2, Jill Tanner, Monument, N.M., 2.9, $1,320. 3, Sarah Morrissey, Ellensburg, Wash., 3.0, $880. 4, Hali Williams, Comanche, Texas, 11.9, $440.
Saddle bronc riding: 1, Stetson Wright, Milford, Utah, 87 points on Sankey Pro Rodeo's Overserved, $1,760. 2, Ross Griffin, Tularosa, N.M., 83.5, $1,320. 3, Parker Kempfer, Deer Park, Fla., 82.5, $880 each. 4, Leon Fountain, Socorro, N.M., 82, $440.
Tie-down roping: 1, Riley Webb, Denton, Texas, 8.1 seconds, $1,760. 2, Jake Pratt, Ellensburg, Wash., 8.8, $1,320. 3, Glenn Jackson, Okmulgee, Okla., 10.1, $880. 4, Cooper Martin, Alma, Kansas, 10.4, $440.
Team Roping: 1, Coy Rahlmann, Ellsinore, Mo., and Jonathan Torres, Ocala, Fla., 5.3 seconds, $1,760 each. 2, Tanner Tomlinson, Angleton, Texas, and Patrick Smith, Lipan, Texas, 5.8, $1,320 each. 3, Curry Kirchner, Ames, Okla., and Austin Rogers, Crescent, Okla., 6.4, $880 each. 4, Quinn Kesler, Holden, Utah, and Max Kutler, American Falls, Idaho, 6.9, $440 each.
Barrel Racing: 1, Jackie Ganter, Abilene, Texas, 16.54 seconds, $1,760. 2, Margo Crowther, Fort Myers, Fla., 16.62, $1,320. 3, Emma Charleston, Reeds, Mo., 16.63, $880. 4, Wenda Johnson, Pawhuska, Okla., 16.83, $440.
Bull Riding: (two rides) 1, TJ Gray, Dairy, Ore., 89.5 points on Rafter G Rodeo's Hercules, $2,420. 2, Jake Gardner, Fort Scott, Kan., 83.5, $1,980.
COURTESY OF JOHNA CRAVENS / FORT WORTH STOCK SHOW & RODEO TO TENN TEXAS MEDIA