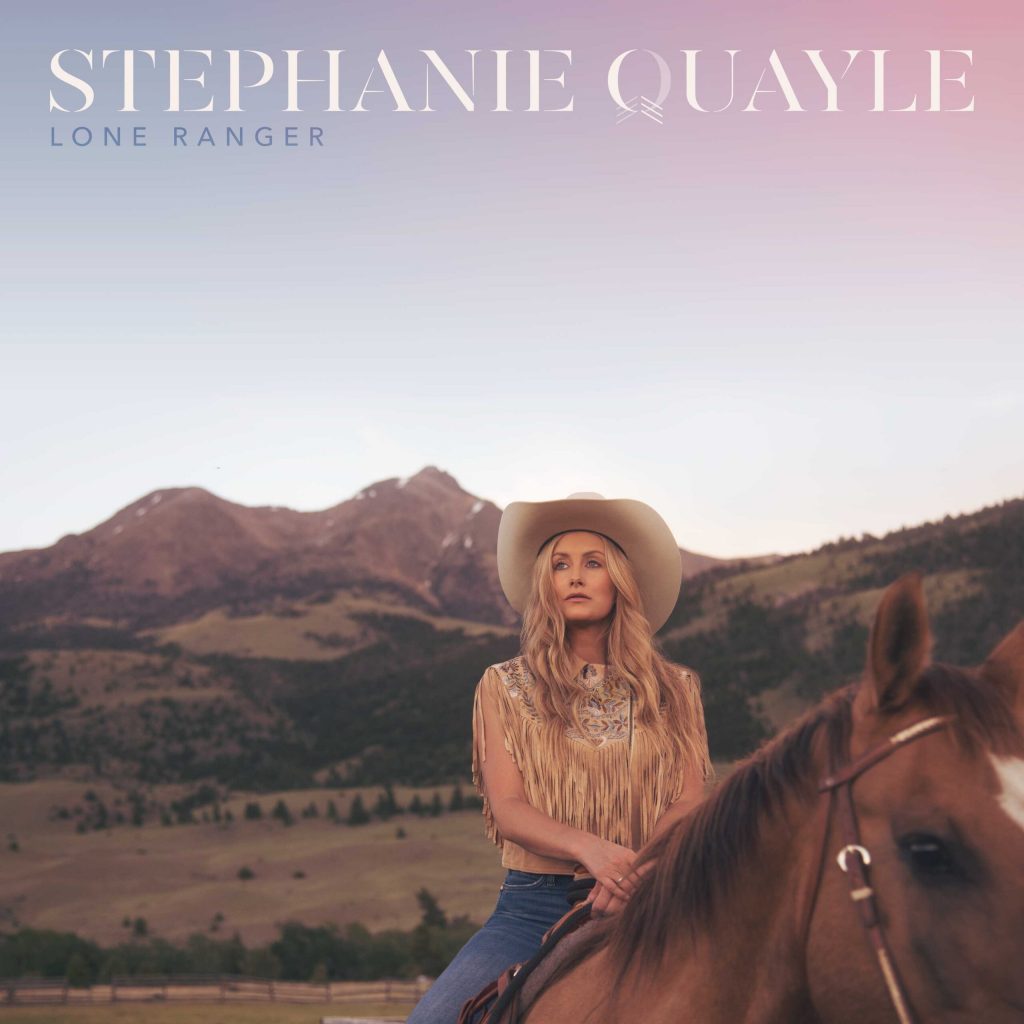 When you talk about Stephanie Quayle making it "the old fashioned way" in country music, the easy assumption is: it's the honey blonde's ability to book her own gigs, haul her own gear and make it happen in the bars, rodeos and fairs across the country. But the Bozeman, Montanan earned her country bonafides by living a life that's far-flung and experienced.
"When I'd gotten out of high school, I'd taken off for California, which seemed so much closer — to be the artist of California country. I eventually made my way to Nashville, and I thought I had so much life experience by then," she laughs, "and then some terrible business things happened. When things don't work out, I just get defiant and try to figure them out."
Raised on a working ranch with "hundreds and hundreds of acres of alfalfa and just under 100 head of Black Angus," she developed grit without even thinking about it. She also grew up on the kind of country music cowboys love – and invokes Dolly, Tammy, Loretta and Patsy in a way that suggests immersion not drive-by name-checking for legitimacy.
She found her calling as a foreign exchange student in Fribourg, Switzerland, overhearing some young people saying their band needed a lead singer. She didn't really speak the language, but – as is her wont – she figured it out. Resourceful, strong, smart and business savvy enough to defy the odds — nothing phases the woman who has since partnered with massive brands like Wrangler, Winnebago, Bass Pro Shops, Murdochs, Harley-Davidson and KOA, to name a few.
Quayle isn't just the artist, either. Rather than have someone tell her what kind of music to make or how to build her career, she draws on her own life experience with "a different kind of female perspective."
"I grew up with cowboys, and I consider my Mom the greatest cowboy I've ever known," Quayle explains. "It's not about gender, it's a state of mind. Growing up like that, it showed me how much of a gap there is in cowboy culture versus everywhere else. When I'm home, it's so vast, it gives you this perspective: how big the world is, how small we are, but also how great the opportunities!"
"Every time I'm home I jump on my horse or get in my truck. It's such freedom, I feel untouchable – and I think without thinking about it, I brought my Montana ways into my music."
With a strong dose of Western, an emphasis on baritone guitar and a frisky put-it-out there candor, the singer-songwriter leans straight into what's on her mind. Paired with Alex Kline, award winning songwriter and one of the most notable female producers in Nashville, the two have expanded upon Quayle's Big Sky Country roots and have further carved out a definitive lane in today's country landscape.
Recorded almost entirely virtually during COVID-19, the first two singles, "By Heart," "Wild Frontier," and "We Buy Gold," define a new era in Quayle's musical journey. These are the first releases from a forthcoming collection of songs that is sure to cement her place in country music as an artist who authentically carries the genre's roots into the contemporary landscape of today.
Quayle shares that she found for a lot of her life she'd been running away from Love. This music tells the story of her realization that Love is exactly what she was running towards the whole time.
"I remember driving down that gravel road for the first time with my whole future on the horizon as the dirt and rocks kicked up behind me. I didn't know my whole world would change that day as I headed towards my now husband. ['Wild Frontier'] is my life, and Montana is the backdrop to our love story — it has been from the very start. Wildly, the pens of Maren [Morris], Shane [McAnally] and Ross [Copperman], captured the spirit of what we think is a legendary love. To be with someone and not need to "tame each other"— these words spoke to me. And I know there are other couples out there that feel this kind of "no fences" love out there too. This song paints that vast picture that you can just get lost in."
It's working. Rolling Stone Country named her "An Artist You Need To Know," CMT tapped Quayle as part of their "Next Women of Country" franchise, The Kelly Clarkson Show featured Quayle as a performer and guest, her last three singles garnered over 100 million audience impressions, and the Grand Ole Opry has hosted the get-it-done artist multiple times. Cited by Billboard for her "captivating story-telling," Quayle serves a powerful dose of self-propulsion tempered with a dollop of "go, girl" affirmation and the above mentioned truth-telling. With a vocal forward tilt, she blazes through her songs with equal parts of wonder, sinew and enough vinegar to shuck the sugary good girl role for an ever-evolving grown ass woman.
SEPTEMBER 5
FARMJAM MUSIC & CAMPING FESTIVAL
2:00 P.M.

73 Oakshott Rd, Colville, WA 99114
SEPTEMBER 10
BARNATO
7:00 P.M.
225 N. 170th St Suite 95, Omaha, NE 68118
SEPTEMBER 30
TANGER CENTER FOR THE PERFORMING ARTS WITH RONNIE MILSAP
8:00 P.M.
300 N. Elm St., Greensboro, NC 27401
OCTOBER 29
ATLANTIS CASINO RESORT SPA
8:00 P.M.

3800 S Virginia St. Reno, NV 89502
DECEMBER 11
STALLER CENTER FOR THE ARTS
8:00 P.M. EST
 STONY BROOK, NY