The 2021 Tennessee Small Farmer Expo will take place on September 2, 2021. The college has decided to move the Small Farm Expo to a virtual format this year. The format will include a 15-minute presentation from extension educators with 5 minutes for questions.
2021 Virtual Small Farm Expo, Tennessee State University, September 2, 2021, 8AM – 4PM (Central time)
 8 – 9 AM Opening comments – Moderator Dr. Jason de Koff
Dr. Chandra Reddy
Dr. Glenda Baskin Glover
Dr. Frances Williams
Dr. Latif Lighari
Dr. Charlie Hatcher
Mr. Jeff Aiken
9:00 – 9:20 "Drones in agriculture" Dr. Jason de Koff
9:20 – 9:40 "Soil Management: Cover crops in Home Gardens and Landscapes" Ms. Karla Gargus-Kean
9:40 – 10:00 "New (Old) Crops for Tennessee Row Crop Agriculture" Dr. Matthew Blair
10:00 – 10:20 "Growing International and Niche Vegetables" Dr. Arvazena Clardy
10:20 – 10:40 "The Impact of COVID-19 on Rural Mental Health" Ms. Rita Fleming
10:40 – 11:00 "Feeding management to enhance efficiency of production of poultry flocks" Dr. Samuel Nahashon
11:00 – 11:20 "Best Management Practices of Industrial Hemp Production in a Changing Regulatory Climate" Dr. Emmanuel Omondi
11:20 – 11:40 "Crop Profiles for Specialty Crop Growers" Mr. Troy Dugger
11:40 – 12:00 "Insectary plants for arthropod pest management" Dr. Kaushalya Amarasekare
12:00 – 12:40 Lunch (slideshow)
12:40 – 1:20 Tennessee Small Farmer Recognition and Awards Program: Moderator – Mr. Finis Stribling
Dr. Michael Harris
Dr. Solomon Haile
1:20 – 1:40 "2021 Organic Melons Research Trial" Dr. Dilip Nandwani, Mr. Onyekachukwu Akaeze, Mr. ZaDarreyal Wiggins
1:40 – 2:00 "Soil and crops in a warmer world: a case study in switchgrass cropland in middle Tennessee" Dr. Jianwei Li
2:00 – 2:20 "Tennessee New Farmer Academy" Mr. Finis Stribling
2:20 – 2:40 "Southern SARE – Resources for Agricultural Producers" Mr. Troy Dugger
2:40 – 3:00 "Proper Genetic Management for Commercial Meat Goat Profitability" Dr. Richard Browning
3:00 – 3:20 "TN AgrAbility-TSU/UT Extension and Assistive Technology help farmers with disabilities" Ms. Eileen Legault and Ms. Joetta White
3:20 – 3:40 "Container gardening – Do's and Don'ts" Dr. Dharma Pitchay
3:40 – 4:00 "Beekeeping" Mr. John Ferrell
4:00 Concluding Remarks – Dr. Jason de Koff, Mr. Finis Stribling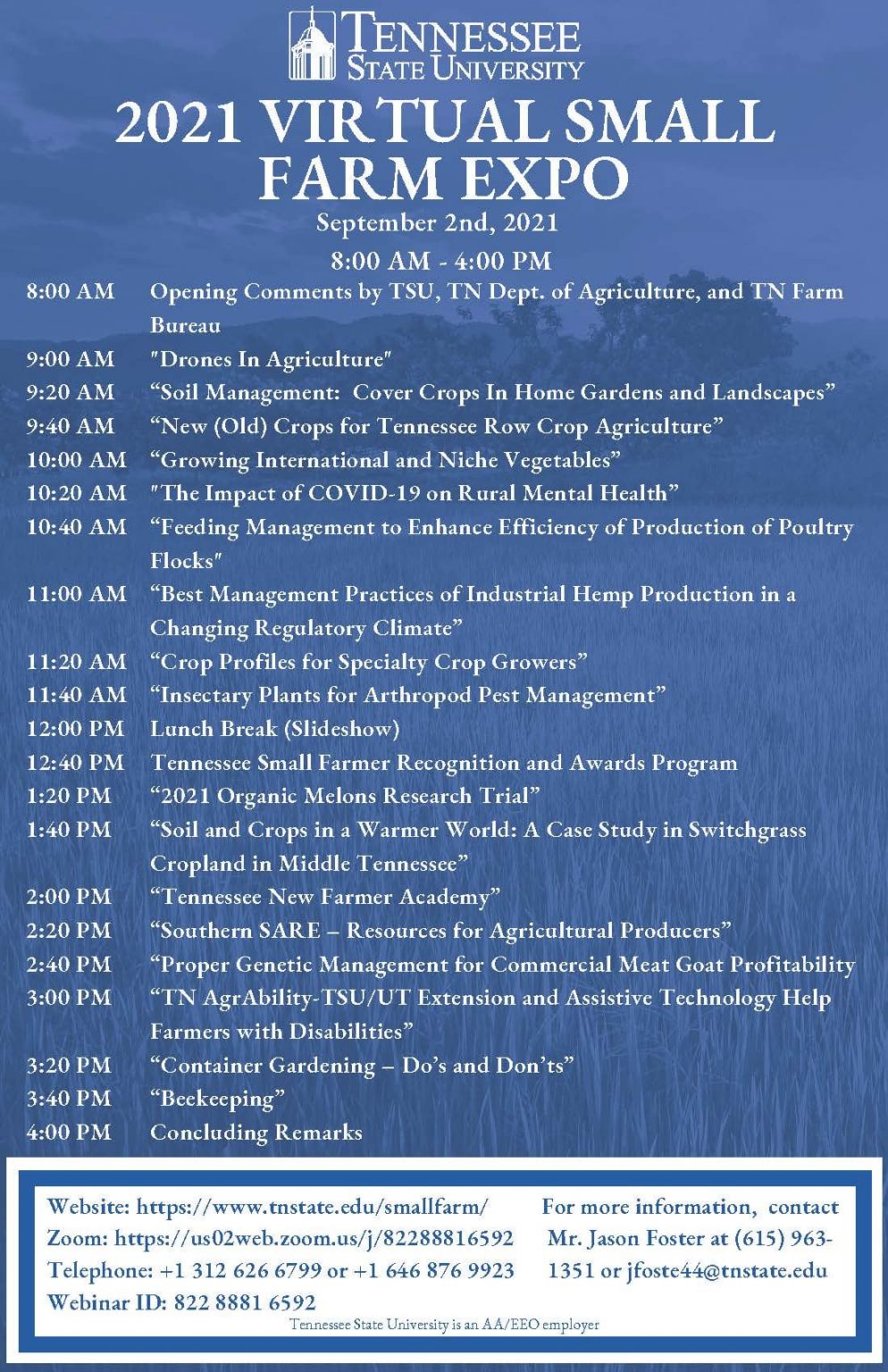 Small Farm Expo Day will highlight exhibitors, speakers, and Field Tour programs.
*** FEATURING ***
Universities, Federal and State Agencies
One Stop Resource Page for Small Farms
Small Farm Grant Programs
Research Plots' Tours 
Educational Workshops
Food Preservation 
Poultry Production 
Greenbelt and Forestry Management Topics
Industrial Hemp Field Tour
Organic Vegetable Trials Tour
Ruminant Livestock Management
Small Farmer Recognition
Join ZOOM Call by logging into the the information below
Zoom info: https://us02web.zoom.us/j/82288816592
Or Telephone: +1 312 626 6799 or +1 646 876 9923
Webinar ID: 822 8881 6592 For more information, please contact Mr. Jason Foster at (615) 963-1351 or jfoste44@tnstate.edu